Wai Ching Watson
Dec 18, 1950 - Oct 15, 2021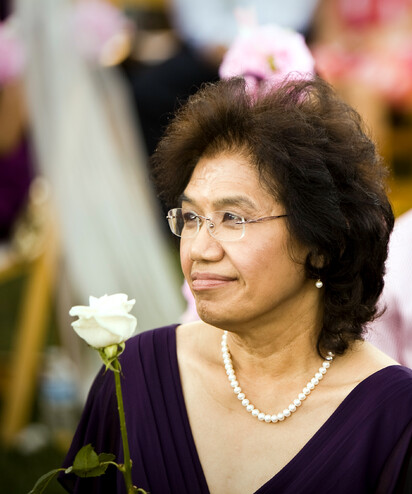 East Lawn Elk Grove Memorial Park
9189 East Stockton Blvd.
Elk Grove , CA, 95624
Obituary
Wai Ching, was born on December 18th, 1950 in Hong Kong. She was the 6th of 8 children in the Tang family. Ching, the name she went by, grew up in Hong Kong along her siblings of 6 sisters and 1 brother. Ching completed primary school and worked in various family business jobs. She married her first husband and had her first daughter Cheukyi in the spring of 1973. In 1976, Ching immigrated to the US with her first daughter Cheukyi. She met William Watson, or Bill, while working at the Sacramento Airport. They married in 1979 and Bill raised Cheukyi as his own child. In 1982, Bill and Ching welcomed their daughter, Wing Yi and in 1986 came the addition of their son, Matthew John, completing their family of five. Ching worked part time sewing at a small warehouse and then sewing from home while caring for Wing and Matthew. Soon, she cut back and focused on the children and their education.
In 1989, Ching was able to sponsor and help her family back in Hong Kong immigrate to the US. First to come was her mother, Mei Fong, or Popo as her children call their maternal grandmother. One by one, more families of aunts, uncles, and cousins were able to immigrate over from Asia. Bill and Ching opened up their home each time and allowed Ching's family to stay with them until they figured out where they wanted transplant.
Ching found it very important that her children learned how to speak Cantonese, especially to communicate to their Popo. Even Bill learned a few key phrases and a few hand signals to communicate to Popo as they watched Monday night Football. Ching also found it equally important for her to learn English. She wanted to be able to communicate well in America and be able to be independent. She learned how to drive, got her driver's license- a rare thing for someone in Hong Kong since public transit is so easily accessible there.
Bill and Ching often took the kids on road trips. From weekends in San Francisco and getting dim sum in chinatown, to checking out the latest buffets in Reno or Las Vegas, to visiting Ching's family in the Los Angeles area. Some of the most memorable trips were the ones to visit Popo and the rest of Ching's family in Alhambra and also driving up north to Vancouver, Canada to visit Ching's youngest sister and her family
Bill passed away in 2007. Their children had become adults. Ching found herself traveling a lot between visiting Popo in Alhambra, visiting her sisters overseas, and friends in different states. Ching became a Popo herself in 2016, when Wing and Joseph, had their first child, Emorie. Then Wing and Joseph welcomed Remington in 2019 and Ching became a "Mama" (Paternal grandmother) in 2020 when Matthew and Marcela welcomed baby Nevaeh to their family.
Ching became a busy grandmother caring for all 3 grandchildren while their parents all worked full time. She never minded caring for the kids as she always developed a fond bond with children. Ching loves children and always devoted her full attention to the kids and to anyone's kids. At any given party, she would often play with and win the hearts of all the babies, toddlers, and young preschool aged kids. Even the shyest, most timid child would eventually warm up to Ching. She just adored and loved children.
In late September 2021, Ching became ill with covid. She was hospitalized as she required oxygen as Covid made Ching very sick. On October 15th, Ching passed away peacefully with Wing and Matthew by her side as she reunited with her late husband Bill in Heaven. She will be deeply missed by her family, friends, and her loved ones. She will remain in their hearts forever.
.