Verna Benjamin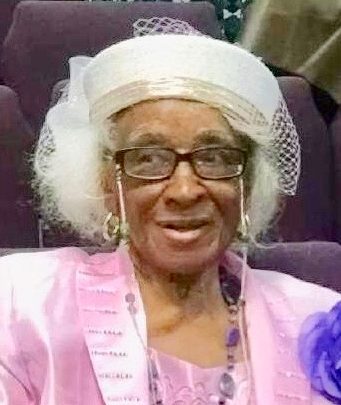 East Lawn Sierra Hills Memorial Park
5757 Greenback Lane
Sacramento, CA, 95841
Obituary
Verna Benjamin was born on January 7, 1919 in Naylor, Georgia to the late Joe Brown and Ola Mae Brown. She was the second oldest of seven children born to this union.
Verna accepted Christ at a young age where she attended Silver Hill Holy Church, Pastor Leanard Alexander.
In 1941,Verna found the love of her life and was united in holy matrimony to Wesley Benjamin on July 4, 1942.
As a young adult she worked in the tobacco and cotton fields. She was such an amazing woman though she was only five feet tall she carried a lot of power and if you got out of line she would say go outside and break me a switch from that oak tree and you can only imagine what happened at that point.
She was an amazing cook known for her skillet fired cornbread, chicken and dumpling, four layered chocolates cake, coconut cakes, pineapple upside down cakes and fruit cakes. Verna was an awesome seamstress. She made the most beautiful quilts ever. She also loved knitting and crocheting. Verna loved hanging out with her friends and loved children. She always had candy in her purse every Sunday that she passed out to the children. She enjoyed playing bingo on Wednesday – Saturdays and whenever she won she would yell out "BANGO" not "BINGO".
Verna moved to Sacramento CA in 1965. She worked as a nanny for Dr. & Mrs. Levy caring for their two children. Later on she became a Volunteer Grandmother for The Children's Receiving Home of Sacramento CA. Children from all ages including the staff loved her and called her grandma.
Verna served as a member of the Rhodope NO: 63 Order of Eastern Star for a half century. She held all Five Stars which consisted of; ADAH, RUTH, ESTHER, MARTHA and ELECTA. She also held a position as Worthy Matron.
In 1972 she united with New Testament Baptist Church, Pastor C.M. Cummings, and served on the Mothers Board.
In 2002, she united with Faith Fellowship Community Church Dr. Ronn Elmore, Pastor. She was the oldest mother in the church and served faithfully on the Mothers Board until her health began to decline.
Verna loved her family and she will be remembered by her three daughters Vernell Copeland – Sacramento CA.
Eatha Williams – Kansas City MO, daughter-n-law Glorine Miller-Kansas City MO,
Verna was the Matriarch of this family with six generations. She will be fondly remembered by her seventeen grandchildren, Dorothy Horne (William), Otis Bryant (Dorothy), Dale Williams, Jackie Williams, Sandra Williams-Smith (Aaron), Sharon Williams, Timothy Williams, Jr. (Tannikia), Sylvester Miller (Cynthia), Deborah Miller, Charles Miller and Johnny Miller (Regina), twenty-one great great-grandchildren, forty-two great great-great, grandchildren and seven great, great, great, great-grandchildren, her favorite niece Mary Stansell, her favorite nephew Charlie Burgman, and a host of other nieces and nephews, three- godchildren, extended family, and friends.
Her husband Wesley Benjamin, Lela Miller, Joyce Ann Belcher, Beatrice Miles, Florence Wright, Blanch Johnson (sisters), Willie Brown (brother) Benjamin F Copeland, Sr., (son-n-law), Timothy Williams, Sr. (son-n-law) Benjamin F Copeland Jr., (grandson), Jeffrey Williams, (grandson) and Billy Williams (grandson) of which all have preceded her in death.