Tsu Chang Su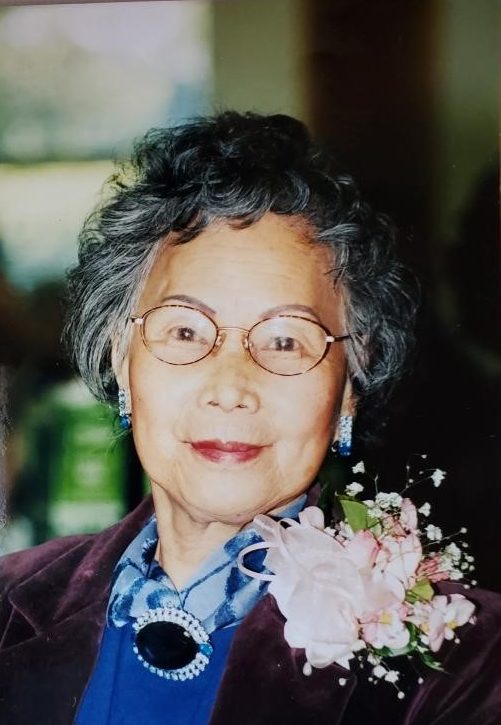 East Lawn East Sacramento
4300 Folsom Blvd.
Sacramento, Ca, 95819
Obituary
蘇張足
Tsu Chang Su, a beloved mother, grandmother, great grandmother and friend, passed away peacefully on August 24, 2022, in Sacramento, California at the age of 97, surrounded by her loving family.
Tsu was born in Tainan Hsien, a province of Tainan, Taiwan on April 2, 1925. She was the youngest of six children of mother Yuan Chou Chang and father Pao Kung Chang.
As a child Tsu was very charming and as the youngest child she was adored by her four older brothers and sister. Tsu and her siblings were the first generation in the family to receive a formal education. Even though at that time it was uncommon for children and, especially girls to receive an education, Tsu graduated from junior high school, the equivalent of completing the 9th grade. While Taiwanese was her mother tongue, she also could speak and write fluent Japanese, which she learned as a child in school and growing up during the Japanese occupation of Taiwan. After graduation, she became a teacher of young children.
In 1945, Tsu married Ku Pu Su and had six children, three boys and three girls. As a wife and mother, she worked tirelessly to care and provide for her family. While she was petite in stature, she was a woman of enormous inner strength and countered whatever challenges and hardships came her way. Tsu was determined that all her children would receive a good education. Her daughter, Tami, remembers how proud her mother was of her academic achievements and pursuits, even though Tsu's grandparents were not supportive of their granddaughters getting an education and favored only the boys receiving an education in the family like most families of that time.
In 1966, Tsu's husband passed away, and to provide for her family and her children's education, she took a job as a librarian at the Yenshui-Cheng sugar cane refinery in Tainan Hsien where she lived and worked for the next 15 years (1966-1979).
In 1979, at the age of 54 years, Tsu left Taiwan to come to the United States to join her daughter, Tami, who had just lost her husband, Noel Shung Wang, to raise her three grandchildren, Angie, Emily, and Andrew. Later, when Tsu's son, Tom, and daughter-in-law, Jessica, started a family of their own, she cared for her grandchildren Stephanie, Natalie and Ryan. Without a doubt, some of her happiest moments were spending time with her great-grandchildren, Austin, Soren, Nola and Easton. Tsu would squat down to their height and form an immediate joyous connection with them and smiles and laughter would ensue. Moving to a foreign country at 54 years old was not easy, but her tenacity, boundless devotion to family, and inner strength created a strong foundation for her family over four decades.
Tsu loved her extended Wang family relatives and they loved her. She especially cherished her friendship with the Wang family matriarch Yueh ree Wang. So often at family gatherings, Tsu and Yueh ree would sit side by side holding each other's hands, confiding in one another.
An avid knitter, crocheter, and gardener, Tsu loved working with her hands. She knitted scarves and caps for her children and grandchildren. She spent countless hours in her yard, tending to her plants, growing vegetables, and was known for trimming hedges into creative designs. Never one to sit still, if there was daylight, she would be working away in the garden, even once the sun went down. An amazing cook, she loved feeding her family. She made the most delicious zongzi (bamboo leaf-wrapped Chinese tamales) and mei fun (Chinese rice noodles). Her granddaughter, Angie, remembers vividly sitting at their kitchen table with her mother and grandmother making handmade dumplings, which they would freeze in huge batches that the family would later devour.
She took care of her body, mind and spirit. Her Christian faith was an essential part of her life. She knew more struggles throughout her life than many of us will ever know, and her faith in God helped sustain her.
She was an active member of the local Japanese senior community and loved getting dressed up and making her weekly Friday trips by bus to the senior center, where she would spend the entire day in fellowship with friends. While she couldn't speak English, within this community, she could speak Japanese, and friendships, many of which spanned over two decades, quickly followed.
Tsu was 97 and lived a full life surrounded by love and adoration from her family and friends.
She was kind, caring, loving, strong, wise, and a model of hope for all those who loved her.
She was preceded in death by her husband, Ku Pu Su, and her children Jin-shing Su, Shu-shin Su Chen, as well as her parents, brothers, sisters, grandchildren, and numerous sisters-in-law, brothers-in-law, nieces, nephews and friends.
She is survived by her children Tami Wang, Jennifer Chu and spouse Jian Chu, Tom Su and spouse Jessica Lin-Su, Dar-ru Su and spouse Yue-zhen Lin, daughter-in-law Hsiu-chyn Chen Su, her grandchildren Angie Wang and Frank DeGaetano, Emily Wang and Josh Marti, Andrew Wang, Stephanie, Natalie and Ryan Su, Ya-ting Su and Jia-Hong Hong, Yu-Chung Su, Shi-han Chen and Ji-Shyan Chen, Tsorng-shyang Su, Lin-Jye Su and Heng-Wei Lin , her nine great-grandchildren, Austin and Soren DeGaetano, Nola and Easton Marti, Teya Scott, Sheng-yi Hong, Bo-Cherng Chen, Zi-Cherng Chen, Zi-Sen Lin, nephew J P Kuo and spouse Shiouhua Kuo, niece-in law Pi-ju Kuo, grandnephew Jason Kuo, grandniece Lily Fetterer and spouse Andrew Fetterer and their daughters Marsanne and Mira Fetterer. Also surviving are many caring relatives who made her happy throughout her long life.

與世長辭, 永在懷中
Gone from our sights, but forever in our hearts.
願她安息
May she rest in peace.