Tran, Thi Nhu Luu
Mar 24, 1936 - Oct 16, 2020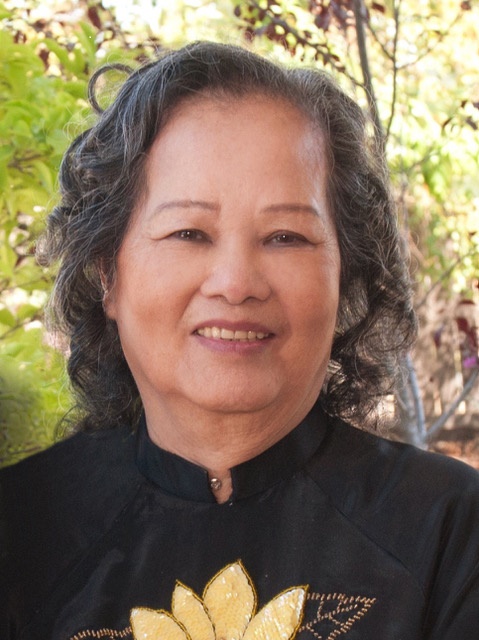 East Lawn Elk Grove Memorial Park
9189 East Stockton Blvd.
Elk Grove , CA, 95624
Obituary
My mom spent her younger years in Hue. At first, she grew up in a beautiful house that was owned by a high Mandarin near the Perfume River. Following her family moved to the house near the Eastern Gate in the Imperial City, she attended the Dong Khanh High School, a famous school for girls in Hue. She passed her high school exams in 1956. At that time, a high school graduate had to pass two national exams and the successful students were announced on public radio.
After her high school graduation, she attended Hue University School of Pedagogy with a Biology major. She received her teaching credential in 1960, an accomplishment quite rare for girls in those days. Because she graduated with a 4-year college education, she became a teacher in Biology at the Quoc Hoc High School, one of the most famous high schools in Vietnam. She taught there until her marriage and subsequent move to Da Nang in 1962. Her husband, Mr. Nguyen van Vinh, was a civil engineer and was the Director of the National Railroad Service in Da Nang. From 1963 to 1969, she taught Biology at the Phan Chau Trinh High School and the newly formed Girls High School in Da Nang. Following her family move to Saigon in 1969, she taught Biology at Gia Long High School, the most prestigious all-girls school of South Vietnam at the time. I myself was one of her students, while she was teaching 7th grade in the school year of 1975/1976.
After the fall of South Vietnam in 1975, the new regime took our house. My mom and the younger children went and lived with her parents, while my dad and the older three children lived with his mom. It was a very difficult time for our family, but she always prioritized our education by sending us to math, music, and French language classes. After many unsuccessful attempts to escape from Vietnam and becoming financially drained, my mom decided to break us into smaller groups to improve our chances. She arranged for my dad, Phuc in one group, I was with a relative, Quang was sent with a trusted family and the same for Nicole. She told us it was like someone had ripped her apart when she had to send us away; especially Nicole, who was only 10 years old at that time. During the time of separation, my mom later shared with me that she always remembered Nicole crying and saying "Mom, please don't leave me". Fortunately, we eventually arrived in the USA in 1980. Dad, Tran, and I stayed with my uncle Khanh. Quang stayed with uncle Huyen and then my uncle Khanh went to Houston and brought Nicole back to California. Dad moved all of us to Sacramento in 1980. It was a hard time for everyone. I had to take over all the meal preparations. At the time, I had never cooked before, all I can make is chicken wing and broccoli, so everyday, the menu was chicken and broccoli.
We struggled without a mother in our life for 10 years. Due to the danger at sea, my mom remained in Vietnam with Michelle and Sean before we could be all together as a family once again. Reuniting was the happiest moment for our family.
Growing up in a well-established family and being the only daughter, my mom never had to step into the kitchen nor learn to cook. But to compensate for those lost years, my mom learned how to prepare for us all the best Hue cuisine dishes like bun bo, banh nam, banh beo, banh gai, chao tom. She put all of her love into those dishes. Quang's wife and the oldest daughter, Quynh Anh, always think that my mom's bun bo is the best, even better than Quang's. Although his bun bo is quite tasty.
Besides taking care of my dad and us children, my mom watched over the first two grandchildren. Quynh Anh and Cu Bi were so lucky to grow up with my mom's care in the first few years of their life. Unfortunately for the other grandkids, they were living too far away from her or were born when she was aged. But she did visit them frequently or travelled for their births. She even went to Pittsburg to take care of my brother Tran when he caught meningitis while in medical school.
Mom was very passionate about teaching and loved her students. At her 80th birthday party, many former students came from all over the world to celebrate with her. She also volunteered to teach Vietnamese at Dien Hong, a nonprofit school. She also attended Cosumnes River College for many semesters to improve her English.
My mom was loved by many of her friends and colleagues such as di Yen, di Tieu Bich, Di Lien and we also got to know them through her. I am sure that they are here to say farewell to my mom.
Just like my father, my mom placed education as the most important thing. She always encouraged us to do our best. Without her encouragement and love, we would not have become the people we are today.
During the last few years of her life, the Alzheimer's disease took her memory and ability to think clearly. But she was able to remember her parent's names, all of her brother's names, her husband's name, her only sister in-lawn, and was always able to recognize all of her children. After my dad's passing, with all of the strength left in her, she was able to prolong her life as long and as best as she could. I knew that she did not want us to suffer the loss of my dad and her in a short period of time. Two weeks prior to her death, she told my brother Quang that she was ready to pass on. She had never said such a thing before, but she appeared to be at peace.
Today we are all here to celebrate our friend, teacher, sister, mother, and grandmother. And to say goodbye to a very strong minded, loving, caring, simple, yet generous and amazing woman. Mom, we could never have asked for a better mother than you. May you rest in peace beside dad knowing that your children are able to take care of themselves and their children, having learned from your wisdom and guidance.
Mom, you will be in all our hearts with all of our love and the memory of you and your legacy will live on forever.
Mẹ tôi đã sống những năm còn trẻ ở Huế. Lúc đầu, bà lớn lên trong một ngôi nhà đẹp đẽ thuộc sở hữu của một vị quan đại thần của triều Nguyễn ở gần sông Hương thơ mộng . Sau đó Me tôi theo gia đình chuyển đến ngôi nhà gần cửa Đông Ba ở Thành Nội, me tôi học trường trung học Đồng Khánh, một trường nữ sinh nổi tiếng ở Huế, và me tôi đã vượt qua kỳ thi trung học vào năm 1956. Vào thời điểm đó, một học sinh tốt nghiệp trung học phải vượt qua hai kỳ thi quốc gia và tên tuổi những học sinh trúng tuyển được công bố trên đài phát thanh công cộng.
Sau khi tốt nghiệp Trung Học, me tôi theo học trường Đại học Sư phạm Huế với chuyên ngành Sinh Vật học. Bà đã nhận chứng chỉ giảng dạy vào năm 1960, một thành tích khá hiếm đối với các cô gái thời đó. Vì tốt nghiệp đại học hệ 4 năm nên me tôi đã trở thành giáo sư dạy môn Sinh Vật tại trường Quốc Học, một trong những trường Trung Học nổi tiếng nhất Việt Nam. Bà dạy học ở đó cho đến khi kết hôn và sau đó chuyển đến Đà Nẵng năm 1962. Chồng bà, ông Nguyễn Văn Vinh, là kỹ sư công chánh và là Giám đốc Sở Đường sắt Quốc gia tại Đà Nẵng. Từ năm 1963 đến năm 1969, bà dạy môn Sinh Vật tại Trường Trung học Phan Châu Trinh, là một Trường Nữ sinh Trung học Đà Nẵng mới thành lập. Mẹ tôi theo gia đình chuyển vào Sài Gòn năm 1969, dạy môn Sinh Vật tại trường Trung học Gia Long, một trường nữ sinh danh giá nhất miền Nam Việt Nam lúc bấy giờ. Tôi cũng là một học sinh của me tôi, me tôi là cô gíáo dạy sinh vật năm tôi học lớp 7, vào niên khoá 1975/76.
Sau khi Chính quyền miền Nam Việt Nam sụp đổ năm 1975, ngôi nhà của chúng tôi đã bị tiếp thu. Mẹ tôi và các em nhỏ tôi phải đến ở với ông bà ngoại của tôi, ba tôi và ba đứa con lớn về sống với bà nội. Đó là khoảng thời gian rất khó khăn đối với gia đình chúng tôi, nhưng mẹ tôi lúc nào cũng lo lắng và luôn ưu tiên việc học của chúng tôi bằng cách cho chúng tôi đi học thêm các lớp toán, nhạc, học thêu, và Pháp ngữ. Me tôi nói là ước mơ của me là chúng tôi được đi du học, nên me tôi đã cho tôi, Quang, và Phúc học hai sinh ngữ, tiếng Anh và Pháp.
Sau nhiều nỗ lực đễ trốn khỏi Việt Nam không thành công và tài chính dần dần kiệt quệ, mẹ tôi quyết định chia chúng tôi thành các nhóm nhỏ hơn để có nhiều cơ hội hơn. Me tôi đã sắp xếp cho ba tôi và Phúc vào một nhóm, tôi thì đi một mình với một người dì họ, Quang được gửi cùng một gia đình thân tín, và Q Chi cũng vậy. Me lúc đó nói với chúng tôi rằng giống như ai đó đã xé từng khúc ruột của me tôi khi đành phải để cho chúng tôi ra đi như vậy; đặc biệt là Q Chi, khi đó mới có 10 tuổi, dã dược me tôi gởi cho một người gia đình rất thân của ba me tôi. Sau nay me tôi kể lại, trong thời gian chia cách, lúc nào me cũng nhớ tiếng Rô khóc, nói là 'Me oi, me đừng bỏ con'. May mắn thay, cuối cùng chúng tôi đã đến Mỹ vào năm 1980, nguyên vẹn, không ai bị gì cả. Ba, tôi và Phúc ở với Cậu Khanh của tôi. Quang ở với cậu Huyền, sau đó cậu Khanh của tôi sang Houston và đưa Q Chi về California. Ba tôi đã đưa tất cả chúng tôi đến Sacramento vào năm 1980. Đó là một khoảng thời gian rất khó khăn và gian khổ đối với chúng tôi. Tôi đã phải đảm nhận tất cả các công việc chuẩn bị bữa ăn cho gia đình, lúc đó tôi không biết nấu ăn, thực đơn mỗi ngày là món cánh gà chiên và broccoli luộc mà thôi. Chúng tôi rất vất vả khi không có mẹ trong cuộc đời. Mẹ tôi đã ở Việt Nam với Phương Nam và Sơn trong 10 năm dài, trước khi tất cả chúng tôi có thể đoàn tụ nhau. Ngày doàn tụ sau bao nhiêu năm xa cách là khoảnh khắc hạnh phúc nhất đối với gia đình chúng tôi.
Me tôi đã sinh ra và lớn lên trong một gia đình khá giả và là người con gái duy nhất nên mẹ tôi chưa bao giờ phải vào bếp cũng như chưa bao giờ phải nấu ăn. Nhưng để bù đắp cho những ngày tháng mất mát đó, mẹ tôi đã học cách nấu cho chúng tôi những món ăn Huế ngon và đặc biệt như bún bò, bánh nậm, bánh bèo, bánh gai, bánh bột lọc, đúng theo công thức của bà ngoại, là một người nấu ăn rất là ngon. Me tôi đã gói ghém tất cả tình thương của mình vào những món ăn đó. Vợ của Quang và con gái lớn Quỳnh Anh luôn cho rằng bún bò của me tôi nấu là ngon nhất, ngon hơn của Quang nữa, mặc dù Quang thường tự hào vì mình rất xuất sắc khi nấu món này.
Ngoài việc chăm sóc ba tôi và chúng tôi, mẹ tôi còn trông nom hai đứa cháu đầu tiên. Quỳnh Anh và Cu Bi thật may mắn khi được lớn lên với sự chăm sóc của bà nội trong những năm đầu đời. Những người cháu khác,vì sống quá xa bà hoặc sinh ra khi bà đã lớn tuổi, vẫn được bà chăm sóc khi các cháu mới chào đời và me tôi đi thăm thường xuyên. Me tôi thậm chí còn đến Pittsburg, miền Tây Mỹ, để chăm sóc em trai tôi, khi Phúc bị lâm bệnh nặng khi đang học trường y khoa ở đó.
Mẹ tôi rất tận tâm với nghề và yêu thương học sinh của mình. Trong bữa tiệc sinh nhật lần thứ 80 của bà, nhiều học trò cũ từ khắp nơi (Việt Nam, Seatle, Nam Cali) đã đến chung vui với bà. Me tôi cũng tình nguyện dạy tiếng Việt tại Diên Hồng, một trường học phi lợi nhuận. Và bà cũng đã theo học trường Cosumnes River College để cải thiện tiếng Anh của mình.
Mẹ tôi được rất nhiều bạn bè, bà con và đồng nghiệp yêu mến như di Yến, di Tiểu Bích, Di Liên, và chúng tôi cũng biết đến các dì qua lời kể của Mẹ. Và hôm nay, trong ngày đặc biệt này, tôi chắc chắn rằng các dì đang hiện diện ở đây để nói lời vĩnh biệt với mẹ tôi.
Cũng giống như ba tôi, mẹ tôi luôn xem học vấn là điều quan trọng nhất. Me tôi luôn khuyến khích chúng tôi cố gắng học hành. Nếu không có sự động viên và tình yêu thương của me tôi, chắc chúng tôi đã không thể trở thành những người như ngày hôm nay.
Trong những năm cuối đời, căn bệnh Alzheimer đã cướp đi trí nhớ và sự minh mẫn của me tôi. Nhưng me tôi vẫn không bao giờ quên tên cha mẹ của mình, tên của các anh em trai, tên của chồng,tên của em dâu duy nhất, và luôn nhận ra các con của mình. Lúc ba tôi qua đời, cách dây gần một nam, với tất cả sức mạnh còn lại, me tôi đã cố gắng kéo dài sự sống của mình. Tôi biết rằng mẹ không muốn chúng tôi phải chịu cảnh mất ba và mẹ chỉ trong một thời gian ngắn như vậy. Hai tuần trước khi me tôi mất, bà ấy nói với Quang một cách bình thản: 'Me mệt rồi, me muốn đi'. Me tôi chưa bao giờ nói những điều như vậy trước đây.
Hôm nay tất cả chúng ta có mặt ở đây để kỷ niệm cuộc đời của một người bạn, người cô giáo, người chị, người mẹ, và người bà, cũng như để nói lời từ biệt với một người phụ nữ rất mạnh mẽ, can đảm, đơn giản, nhưng rất rộng rãi và đầy lòng yêu thương. ME ơi, chúng con không bao giờ có thể đòi hỏi một người mẹ nào tốt hơn me. Me hãy yên nghỉ bên cạnh ba. Các con của me bây giờ đã khôn lớn, tự chăm sóc cho bản thân, và các cháu, nhờ học được từ sự khôn ngoan, tình thương và những hướng dẫn của me, cũng rất là ngoan, học hành tốt, và nghe lời ba mẹ.
Mãi mãi, chúng con luôn yêu thương và nhớ đến me, người mẹ duy nhất của chúng con, đã hy sinh, chăm sóc và thương yêu chúng con không điều kiện.
Với muôn vàn thương nhớ,
Tạm biệt me
Con, Bé