Ronald L. Soble
Mar 24, 1936 - Jun 20, 2021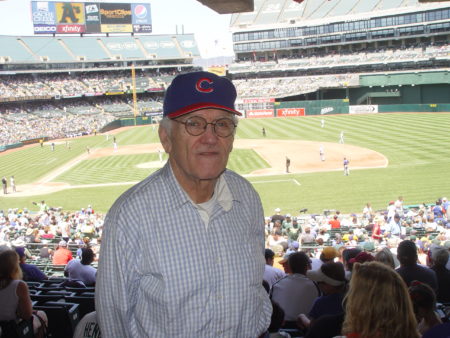 Obituary
Born on March 24, 1936, in Chicago, Illinois, Ronald ("Ron") L. Soble died at age 85, on June 20, 2021, at U.C. Davis Medical Center in Sacramento, California.
During Ron's final week, his blood pressure dropped extremely low, ultimately leading to his heart stopping. Ron's son was at his bedside at his time of death. Ron had spent the last three years of his life frequently battling swallowing difficulties connected to Alzheimer's disease and a 2016 stroke, making Ron highly susceptible to aspiration pneumonia.
Ron was a beloved husband, father and grandfather. Ron is survived by his wife Anne, son Mark and grandson Matthew. All three live in Sacramento, California. Ron is also survived by his sister Susan who lives in Florida.
Ron and his wife Anne shared a passion for investigative journalism, the environment, and caring about their community. When Mark was young, Ron coached Mark's Little League team, and Ron and Mark enjoyed playing chess. Ron, Anne and Mark all greatly cared about animals, and Ron doted on the many cats, dogs and other animals in his life.
In 2013, after Ron and Anne developed serious health issues, they moved from Malibu to Sacramento, where their son lived. Ron and his son Mark loved watching baseball games on television together, especially during the last eight years. Visits from his young grandson Matthew would bring huge smiles to Ron's face. Ron also greatly enjoyed listening to jazz music.
Professionally, Ron was an award-winning journalist. In 1957, Ron graduated from the Missouri School of Journalism. In 1962, Ron received a master's degree in communication from Stanford University. While a reporter with the Los Angeles Times, Ron was a two-time co-recipient of the prestigious Gerald Loeb Award for distinguished business and financial journalism. Ron was also a co-recipient of a National News Emmy for a Frontline report. In addition to the Los Angeles Times, Ron also served as a reporter or editor for many other newspapers as well as for the wire services Reuters and Associated Press.
Ron also wrote four books, "Blood Brothers: The Inside Story of the Menendez Murders," (Onyx, 1995); "Whatever Became of Free Enterprise?" (Signet, 1977), "The Impossible Dream: The Equity Funding Story, The Fraud of the Century" (Putnam, 1975), and "Smart Money in Hard Times: A Guide to Inflation-Proof Investments" (McGraw-Hill, 1975).
Ron is greatly loved and missed by his family.