Richard Ellis Wylie
Jul 28, 1931 - Aug 17, 2020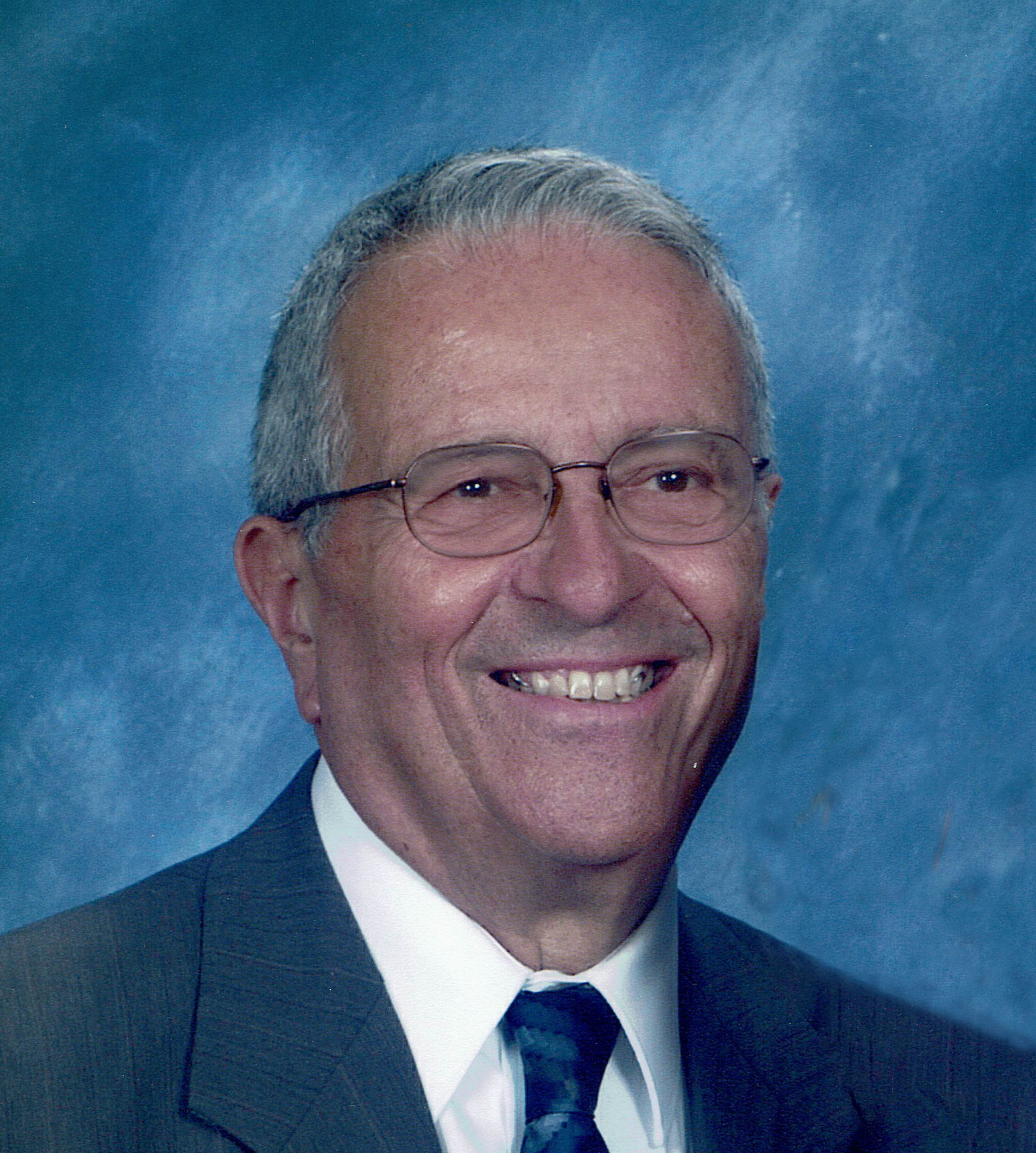 Obituary
The Reverend Dr. Richard Ellis Wylie
July 28, 1931 – August 17, 2020
Richard "Dick" Wylie was born in Grand Rapids, Michigan, to Ellis and Eleanor (O'Keefe) Wylie on July 28, 1931. He had one brother, Donald, born in 1933. The family lived in a few cities in Michigan before settling in Plymouth, outside Detroit, where Richard attended high school. During the summers as he was growing up, Dick worked on his grandfather's farm in Shelby, Michigan.
He graduated from Plymouth High School in 1949 and began attending Alma College in Alma, Michigan, the following fall. It was during his senior year at Alma that he met the former Joan Horn, who lived in Hart, Michigan, the next town north from Shelby. Joan was in her first year at Alma and was looking for a ride home to visit her parents, the Reverend William and Bertha Horn. What started with rides home on the weekends turned into romance. Dick and Joan were married on June 19, 1954, in Hart, with Joan's father William presiding.
Dick attended McCormick Theological Seminary after graduating from Alma College in 1953. He graduated with a Master of Divinity degree from McCormick in 1956 and was ordained as a Presbyterian minister of the Word and Sacrament at his home church, Rosedale Gardens Presbyterian Church, in Livonia, Michigan, on May 16, 1956. Dick was called to serve his first parish, Bethany Presbyterian Church in Gobles, Michigan, four days after his ordination. It was while he and Joan lived in Gobles that they welcomed their first child, Steven Richard, born in 1957. Dick also began taking classes at Western Michigan University for a Master's degree in Counseling, which he earned in 1958.
Dick was called to be the new pastor at Sandusky Presbyterian Church in Sandusky, Michigan, in September 1958. During the five years that he served that church, the new Christian Education Center wing was built adjacent to the church that greatly expanded the church's facilities and service to the community. Dick and Joan expanded their family as well with the births of Carol Sue in 1959 and Janet Kaye in 1962.
Dick was called to grow a new church in Wyoming, Michigan, in June 1963. Wyoming Presbyterian Church was just beginning as an offspring of Westminster Presbyterian in Grand Rapids, meeting in the gymnasium of the neighborhood elementary school. Dick canvassed neighborhoods and met as many people as he could to add members to the congregation. A new church building was dedicated in 1965 when the membership had grown from 93 members to over 250. Dick was active in the local Junior Chamber of Commerce "Jaycees" and hosted a Sunday morning church-focused program on one of the local television stations in Grand Rapids during his five years in Wyoming. Dick was also selected to serve as the Michigan state chaplain in 1964.
In the fall of 1968, Dick was called to serve the congregation of First Presbyterian Church, in Peru, Indiana. The Peru church was a stark contrast to the Wyoming church. It was established in 1835 and had a long history in the community. Dick brought new members from the Bunker Hill (later Grissom) Air Force base nearby and the membership grew to nearly 500 members. While in Peru, Dick served on the Board of Directors of the local YMCA, was active in the local Boy Scouts of America region leadership, the United Way, and many other charitable organizations.
From 1971 until 1976, Dick returned to McCormick Theological Seminary to begin studying for his Doctor of Ministry degree. The correspondence-based program allowed Dick to continue to serve the Peru church while he completed the coursework for his degree. He completed his studies in the Spring of 1976 and celebrated by portraying the Reverend John Witherspoon in Peru's community theatre production of "1776" to honor the 200th birthday of the United States.
In 1981, Dick was ready for a new challenge. He interviewed and was hired at the Synod of the Pacific office in Sacramento, California, to be the new Associate Executive of the Sierra Mission Area (Presbyteries of Sacramento, Stockton, Nevada, and San Joaquin) in stewardship & mission; communication & mass media; evangelism & church growth for all of the 125 congregations of the region. For the next nine years, he traveled throughout northern California and Nevada visiting many congregations and helping them find ways to grow their membership and expand their outreach. He also hosted television programs at two local stations in Sacramento during the 1980s.
Dick left the Synod office in 1990 to become an Interim Pastor for Presbyterian churches in Vallejo (1990), Fair Oaks (1991-94), Loomis (1994-95), Santa Rosa (1996-97), and Dixon (1997), California. Dick officially retired from active ministry in 1997. During his retirement he served as Parish Associate at Fremont Presbyterian Church in Sacramento until 2005. He also became active with More Light Presbyterians to provide outreach and support to the many LGBTQ members of the Presbyterian Church USA. Dick believed that every member of the church should be able to serve fully including as ordained officers and ministers. He and Joan settled at Westminster Presbyterian Church in downtown Sacramento in 2005 because it was a congregation the welcomed all people to worship and serve. Dick continued to serve the community in retirement including visiting the sick and the elderly, officiating at many weddings, and delivering sermons when the pastor was on vacation.
Dick and Joan loved to travel, from a truck camper in the 1970s that toured the Rocky Mountains to overseas trips in Ireland, Germany, Italy, Greece, New Zealand, and Australia. They loved taking the family to visit relatives and friends in California, Connecticut, Washington D.C., Georgia, and Florida. He and Joan also attended the biannual General Assembly conferences of the Presbyterian Church USA They also made regular trips back to Michigan to spend time with many family and friends there.
Dick was a man of deep faith and devotion to the people of the church. He is remembered for his easy laugh and warm smile, his compassion, and his commitment to sharing the love of Jesus Christ with everyone he met. At the celebration of his 60th year of ministry, he reminded everyone that he was not finished serving. Even in his final days, his caregivers shared that his friendliness and warmth were evident with everyone.
Dick is survived by his loving wife of 66 years, Joan, his three children and sons-in-law Steve (Steve Gibson), Carol (Mark) Sherman, and Janet (John) Gong. He was preceded in death by his parents, Ellis and Eleanor Wylie, and his brother Donald Wylie. He dearly loved his four grandchildren, Amie (Eric) Sherman Olah, Sarah (Todd Fahlstrom) Sherman, Megan Gong, and Matthew Gong, as well as his three great-grandchildren (Kennedy Paige Bateman, Owen Rex Olah, and Mary-Jo Elle "MJ" Olah). Other survivors include sister-in-law Yvonne Wylie and many nieces, nephews, grands, great-grands, and cousins.
Contributions in his memory can be made to Westminster Presbyterian Church (1300 N Street, Sacramento, CA 95814) or Alma College (614 W Superior St, Alma, MI 48801).