Melvyn Leroy Gon
Jan 18, 1948 - Jan 31, 2021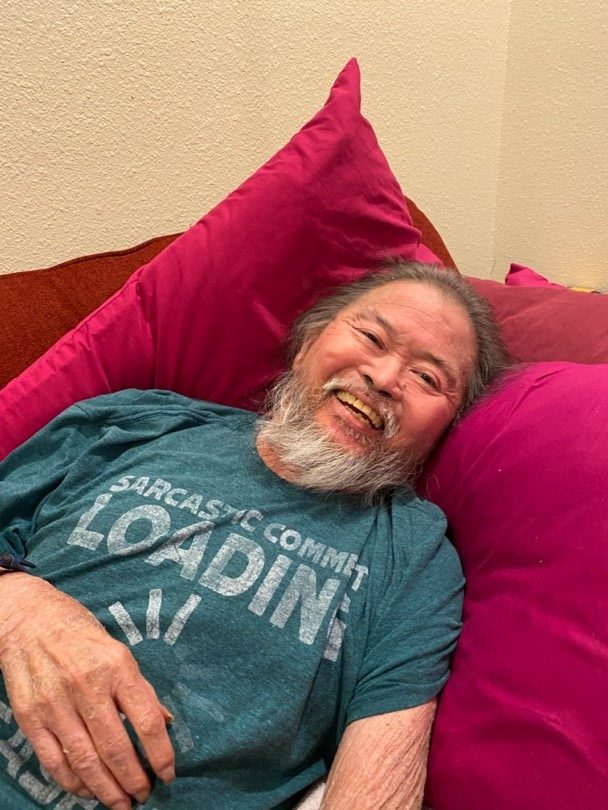 East Lawn Memorial Park
4300 Folsom Blvd
Sacramento, CA, 95819
Obituary
Melvyn Leroy Gon ("Mel") passed away peacefully from Alzheimer's disease on January 31, 2021 holding hands with his lifelong partner, best friend, and caretaker, Connie Gon. His humor, bank shots, and fierce love of family will always be remembered and treasured. Mel was preceded in death by his father, Herbert, who spoiled him; his mother, Mary, who took care of him, and his sister Judie, who always forgave him. He is survived by his loving wife Connie, their daughter Nicole, his son-in-law Nori Ochi, the two granddaughters that he adored, Kimiko (8) and Megumi (5), and his brother Ron.
Mel was born to Herbert and Mary Gon on January 18, 1948 in Grass Valley, California. He was the youngest of 3 children and had fond memories of playing Little League, spending time with his many cousins and helping out his dad at the family's grocery store, which was the only store open every day of the year in Grass Valley. After graduating from high school, Mel and his family moved to Sacramento where he continued working for his dad at Baskin Robbins and other local stores. Mel attended Sacramento City College where he met his future wife, Connie Machida, in an Asian American studies class in 1975. Mel cast Connie as the lead in a play that he wrote for a class assignment and the rest was history. After their first date, Mel proposed, but Connie said, "I don't even know you!" So Connie waited and waited for Mel to ask again, but he wasn't in any hurry, so after about 6 months of dating, Connie brought a calendar to Mel to decide on a wedding date…so he said Connie proposed to him! On March 19, 1977, Mel and Connie tied the knot and shortly thereafter purchased the home that they shared for more than 40 years.
In 1981, Mel became a dad when Connie gave birth to their daughter, Nicole. Mel loved being a dad. He invented stories of a mischievous character named "Jackie", served as Nicole's lawyer to escape from Japanese school and church, contributed his signature cityscapes to the Gon family newspapers, enjoyed playing games like Barbie Goes Around the World (and later, Scrabble), and loved Friday movie nights and vacations to San Francisco and Disneyland. As Nicole grew up, Mel happily shuttled Nicole and her friends to malls, movie theaters, and dances until she got her driver's license and inherited his old Chevy Cavalier (he referred to the car as his 'Babe Mobile'). In addition to being an exceedingly cool dad, Mel spent most nights at the Sac City tennis courts, played a lot of pick-up basketball at the park or at his mother-in-law's ranch with his nephews, and rode his bike more than he drove a car. He also loved writing and frequently wrote poems for Connie and Nicole to commemorate special occasions and holidays.
In 1999, after working more than 20 years for the Secretary of State, Mel retired to spend time with his dad. He spent his retirement years playing even more tennis and basketball, writing short stories that were published in local newspapers, earning his Early Childhood Development certificate (because he loved kids), and caring for his ailing father. In addition, he was an avid reader who loved crime and mystery novels and liked to get multiple refills of coffee while reading free newspapers at La Bou. He enjoyed tooling around town in his dented white pick-up with colorful duct tape holding his bumper together, debris in the truck bed, and hip hop blaring from the windows.
In 2010, Mel was diagnosed with polyarthritis, which impaired his active lifestyle. As the arthritis worsened, Mel had to give up nightly tennis matches for multiple sessions of boxing in the garage and his trusty bike for a scooter. The loss of sports was devastating for Mel, but it helped that his two granddaughters were born during this time. He loved to visit them in Los Angeles, where they would chase after his basketballs at the park (he maintained his shot even as he started using a cane) and play 7-up at the dinner table. In 2019, Mel was diagnosed with Advanced Alzheimer's disease. His wife Connie tirelessly gave him the best possible care at home until shortly before he passed – they had nightly ping pong matches, ate out frequently at their favorite places, and connected often with friends and family. Mel spent the last few months of his life at a loving board and care facility, which Connie visited daily. We wish to thank Care Homes by Angel (Angeline Kang Houston), and especially Estefanie, Jay, Helen, Rommel, Oswald and Chok for their phenomenal care of Mel during his time in hospice.
Mel was an athlete, a poet, a story teller, a lover of children and dogs, and a joker, but above all, he was someone who deeply and fervently loved and supported his family. He will be deeply missed by all who knew and loved him.
If you have any pictures, memories, or words of condolences that you would like to share, please feel free to add a submission to our Memorial Book that will be celebrating Mel and his legacy. You can access the submission page via the following direct link;
https://www.commemo.co/contribute/091092
A virtual celebration of life will be held via Zoom on Saturday, February 13 at 1pm. If you would like to attend, please send an email to melvynleroygon@gmail.com for login information. Donations can be made to his granddaughter's public school, Aldama Elementary. Please send an email to melvynleroygon@gmail.com for more information about providing a contribution.