Koffi Linus Sosu Afawubo
Dec 24, 1943 - Oct 18, 2021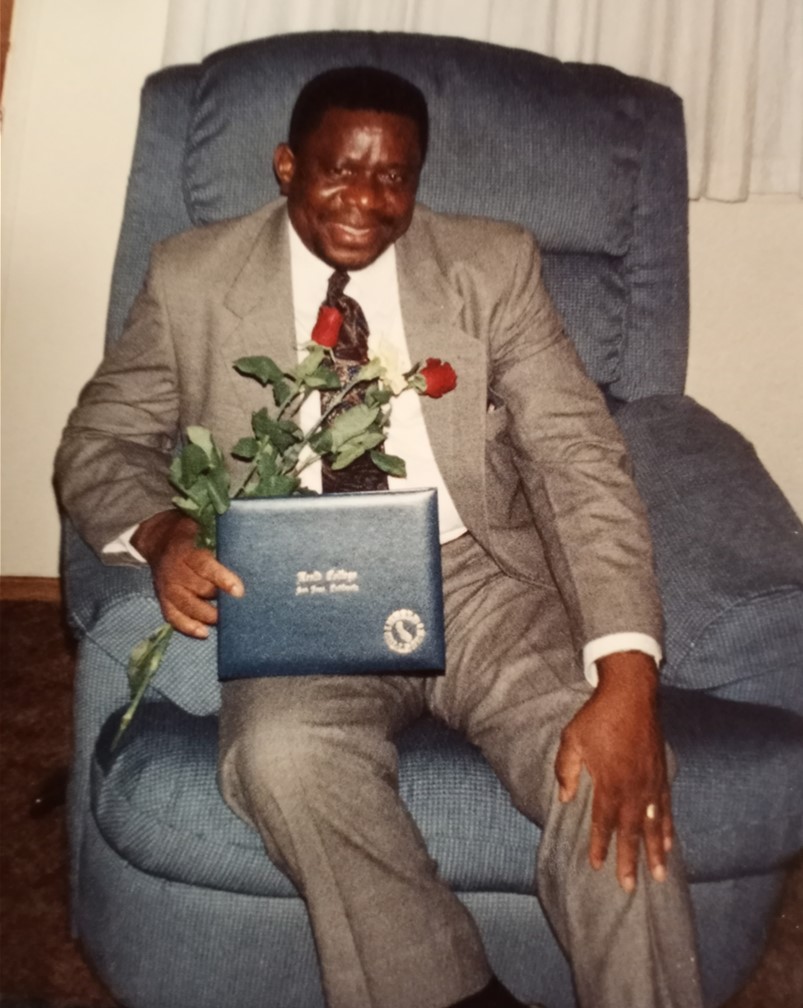 East Lawn Memorial Park
4300 Folsom Boulevard
Sacramento, CA, 95819
Obituary
To have your comments published in a book with others to give to the family later,
please, LEAVE MESSAGES HERE>>>>>> https://www.commemo.co/contribute/ff3bd0
For mobile phones, scroll all the way to the bottom and click "Watch service recording"
To watch Graveside recorded ZOOM click here>>> https://us06web.zoom.us/rec/share/3_YDF846e2NxrASa3-yt7KN0q90XmhJh8Ul2nHgpgaZ1tPsyEsUOnPHipk2Th0zO.gzLiEpDtY-mhIGm1?startTime=1637347764000
Click here to read the FULL Life of Koffi>>> https://docs.google.com/document/d/1_rHFFWEGIvR-qTFZXzM0IRu25HjUl7eQLjYtbEpZRy4/edit?usp=sharing
Obituary
Koffi Linus Sosu Afawubo passed away peacefully on Monday, October 18, 2021 at Kaiser Permanente Hospital in Sacramento, California.
Koffi, known as "Sosu" by his family members and friends, was born in Togo and spent his formative years in Denu. As a youth, he entertained the idea of being a drivers' mate, a fisher-boy, and a photographer. He was known to be an avid reader and many nights found him on the beach leaning against a coconut tree reading a book until the sun set. He had found his passion. Koffi would devote his life to teaching, and sharing his knowledge of African culture. He began as a Pupil Teacher in Accra, Ghana and in 1961 enrolled in a four-year program at Saint Andrews Teacher Training College. From that moment on he would be known throughout his life as "Teacher".
His academic achievements in the U.S. are too numerous to list all, but a few most notable are; B.A. San Jose State University, M.A. University of California, Riverside, Admission to UCR Doctorial program Social and Cultural Anthropology, M.A. English TESL Cal State East Bay, UCR and Cal State East Bay Associate Teacher. He conducted countless workshops on African Traditional Medicine and Spiritual Healing at universities, institutions, and cultural centers across the U.S.
Reading was one of his hobbies. He had hundreds of books lining the walls of his room, not counting the boxes stored in every closet in the home. He loved nature, walking in the park, and fishing. He enjoyed music, all genres, but it seemed that classical music touched him to his core. He often said that listening to Handel's Messiah transformed him back in time. He liked watching movies and could remember lines from hundreds of films. But most importantly, Koffi was the family patriarch. He was a devoted father to his children. With immense courage and sacrifice he left everything he had known for the first half of his life, to begin anew in another country for the sake of a better future for his family.
Looking back on such a full life, and realizing what a treasure he was, we are shaken by his death, but secure in the knowledge that he is at peace. We will miss his loud voice, his funny stories, his lectures, his counsel, his knowledge, his love.
Koffi leaves to cherish his memory, his wife of thirty-two years, Lenore Butler-Afawubo, his daughters, Isabelle A. N. Afawubo, Yolanda V. Afawubo, five sons, Kwame Martin Afawubo, Ayaovi Bright T. Afawubo, Anani Afawubo, Mawutor Afawubo, Komla M.C. Afawubo, one sister, Christiana Adzo Afawubo, six brothers, Andreas Mensah Afawubo, Raphael Kwaku Afawubo, Edwin Koblah Afawubo, Sylvanus Fogah Afawubo, Robert Gbeti Afawubo, Theophilus Tewo Afawubo, half-brother, Isaac Kofi Afawubo, and seven grandchildren. Also survived by loving in-laws, nieces, nephews and a host of relatives, and friends. He is predeceased by his father, Soddoh Tsormanya Efa, mother Sodzrohoe Ametornu, brother Simon K. Afawubo, and former wife Sokou-Akli Adjowa Nyedji.