Kay L. Jensen
Jul 19, 1938 - Oct 10, 2020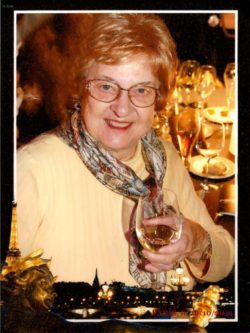 East Lawn Memorial Park
4300 Folsom Blvd.
Sacramento, CA, 95819
Obituary
She was born Kay Lorene Wulff on July 19, 1938 in Sacramento California to Henry and Uella Wulff. Kay lived in a small house on Bidwell Street in Land Park before moving to the house her family built on 2 acres in Arden Oaks. She and her brother George were able to experience farm life by raising chickens, pheasants and other birds and keeping an extensive garden and orchard.
She graduated from El Camino High School in 1956. As her father was a Principal and her mother a teacher, she obtained her teaching degree and credential in Home Economics from Sacramento State.
She married Kenneth Squire Williams in 1959 and together they had 2 boys, Kent Michael and then Kirk Henry, 13 months apart and then 7 years later adopted a girl, Kristin Grace. They lived in Rosemont where Kay taught at Albert Einstein Junior High School where she was well loved by the students.
After Ken and Kay divorced, she met and married Wayne Jensen in 1974 and moved to Sutter Creek. She loved the small town community in the foothills and did not mind the commute to continue teaching. It was with Wayne that she began to amass dolls and collectables. As her collection grew she opened a shop in the basement of her house on Sutter Hill. Eventually she outgrew that location and bought her home and shop in historic Amador City in 1986. She began to travel to doll shows and continued growing her collection. She became well known within the doll world as a collector and trusted expert merchant. Within this world, she met and made lifelong friends. Eventually the business allowed her and Wayne to retire early and they began their extensive world travels. This was done while continuing to grow their doll collection and business. When Wayne passed due to complications from cancer, Kay continued her doll collecting and traveling, often heading to Europe with her daughter and on doll trips.
She met her third husband Jack Marvin Swagerty and became a bonus Mom to his children. He became her partner on her travels and they enjoyed their adventures. Unfortunately, in 2016 she lost Jack as well. In her final years, she traveled when she could, found a good friend and a true gentleman named Jay who treated her like a queen and called her every night.
Kay passed in her sleep on October 10, 2020 due to a failing heart. She was an amazing woman and she will be missed. She is survived by her children, Kent, Kirk and Kristin, her brother George and her grandchildren Matt, Zack, Rachel, Riley, Derek and Alexa. She blessed her family and friends and will be forever missed.