Jose M. Lasso
Sep 24, 1934 - Nov 30, 2020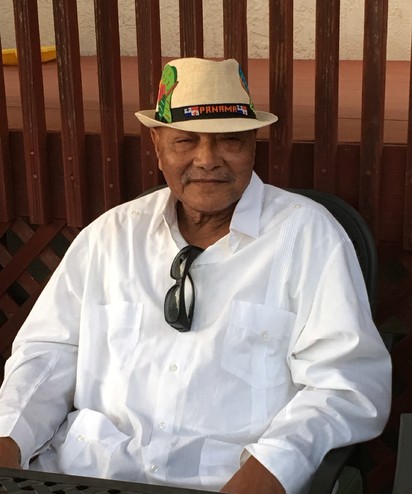 Obituary
In loving memory of Jose Mercedes Lasso
Jose Mercedes Lasso Rivas was born on September 24, 1934 in Las Lajas de Chame, a province of Panama. Jose was born to Nemesio Lasso and Natividad Rivas Lasso. Jose was given the name Mercedes because he was born on the saint day of La Virgen de las Mercedes which is a common Catholic custom in Latin America. Jose was referred to as "Calvo" which translates to "bald head" in English back in his village.
Jose married Veronica Lasso on August 23, 1969 and together they have 5 children, 22 grandchildren and 9 great grandchildren. Jose immigrated to the United States in 1972 and later became a Naturalized Citizen. Jose worked for Pacific Bell for 30 years as a Building Mechanic. When he retired, Jose took full advantage of his time off. Both he and Veronica retired to their homeland of Panama in 2004. Jose and Veronica went on many cruises, vacations and frequently enjoyed time with their family in the states. Jose enjoyed watching horse races, boxing and Game of Thrones. Jose kept active by walking 5 miles a day and was very meticulous about his skin care. Jose was also an avid San Francisco 49ers football fan and he loved the San Francisco Giants. But what Jose was most passionate about is great food!!!!
Jose will be sadly missed by his wife Veronica; Children; Jose Jr., Carol, Frank, Chanthal, and John Pierre; Grandchildren; Jose III, Evelyn, Elias, Rosa, Stephany, Franky, Jose Isaack, Nayarys, Dereck, Danielle, Anthony, Tatyana, Thaddeus Jr., Frank Jr., Katherine and Sabrina; Jacob, Kwabena Jr., Noelle; Xavier, Jordan, Zachary; Great grandchildren; Damiana, Dyahni, La'Thomas, Lamar, Kelani, Franky, Nurmis, Leena and Joseph Jr.; as well as numerous nieces, nephews and extended family.
Due to COVID-19, the family will not be gathering at this time. We will celebrate Jose's life at a later date when it is safe to do so. Thank you so much.