Duane Noble Skates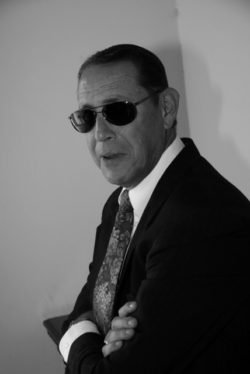 Obituary
Duane Noble Skates passed away in Elk Grove, California on September 21, 2020. He was predeceased by his parents Helen and Edward Skates, and his twin brother Daniel who died at birth. He is survived by his life partner and best friend Beth Wied. He is also survived by his sister Arda Crump, his niece Cheryl Crump, nephew Duane Crump, four great nieces, two great nephews, one great grand niece, and countless friends.
Born on March 13, 1947 in Sacramento, California, Duane grew up on his family's Flying Feather Ranch (a Spanish land grant ranch located in what is now known as the north Natomas area) and in Oak Park. He graduated from Sacramento High School and majored in music at Sacramento City College and Sacramento State University. In 1966, Duane enlisted in the United States Marine Corps. He auditioned for the Marine Corps band, playing "Flight of the Bumblebee" on the tuba, and was accepted into the "Presidents Own" in Washington DC. He decided, however, to follow family military tradition and volunteered for service in Viet Nam. There, as a machine gunner, he was a member of an elite reconnaissance team, and, as the smallest member of the team was a "tunnel rat". He was awarded a silver star and two bronze stars for heroism, five purple hearts, and numerous other medals, ribbons, and commendations.
Following his Marine Corps service, Duane returned to Sacramento and college. He was a professional musician and was the original drummer for Tower of Power. After he walked away from professional music, Duane moved to Cupertino, California, and became a National Service Officer for the Military Order of the Purple Heart. He then moved on to the California Department of Veterans Affairs as a Veterans Claims Representative, managing the San Francisco and Oakland offices. He retired as the Veterans Services Officer for the County of Santa Clara.
Duane was a compassionate, complicated, and sentimental man with a large heart. Named Little Feather, he was fiercely proud of his Arapaho and Blackfoot Native American heritage. Duane loved animals (who loved him back), played baseball, raced motorcycles, competed in rodeos, participated in Native American events, coached AYSO Soccer, coached drum and bugle corps, and bowled. A favorite memory was when visiting Disneyland, after marching in the Pasadena Tournament of Roses Parade, he was able to see Louis Armstrong play. In retirement, he gardened, rebuilt fences, decorated the home inside and out for all holidays, cooked, helped the neighbors, followed San Francisco Giants baseball, became a doting uncle to Luke and Evan Wied (Beth's nephews), and greatly enjoyed his life in Elk Grove. He will be deeply missed by all whom he touched. Semper Fi, Marine!
In light of COVID-19, private services will be streamed live on November 10, 2020 at 2:00. Please see the obituary on EastLawn.com for the link. In lieu of flowers, please consider making a donation in Duane's memory to the Marines Memorial Association at 609 Sutter Street, San Francisco, CA. 94102 noting "In Memory of Duane Skates" or call Chelsea Leonard, Director of Development at (415) 658-9210.