Domingo Jose Rodrick
Mar 23, 1930 - Oct 28, 2020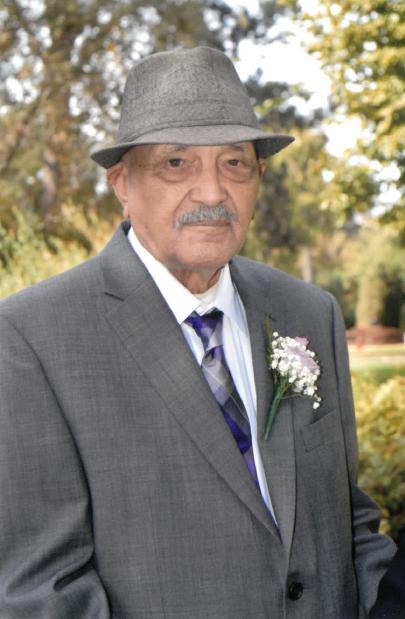 St. Mary Cemetery
6509 Fruitridge Rd
Sacramento, California, 95820
Obituary
Domingo Jose Rodrick(Rodrigues) was born on March 23, 1930 on a Dairy Farm in Brawley CA. He was the 1st child of Joao Jose Rodrigues De Pina of the island of Fogo in Cabo Verde Islands and Soledad Caballero of El Paso TX. He was preceded in death by his sister Alici Rodrigues and her son Pedro Rodrigues of Fogo Cabo Verde. Survived by Alici's daughter Maria and her children Zeza, Joao, and Tania. He is survived by his loving sister who was very dear to him Eva Rodrigues Gomes. As well as her children Kiki, Manuel, Barbara, Tony Jr, Maria, Adelina, Rosie, Benvinda, Patricia, Daniel Jr, and Ana.
Domingo was survived by his loving son John Williamson and his wife Annette with their daughter Jeannette. He was also survived by Johns older children Jason Williams and Dana Dominique Williamson. He was survived by his former wife Alba Rodrick and their children Juan Manuel Rodrigues and Yadhira Eva Rodrigues Maldonado. Along with Manuel's wife Annie and their children Selena, Ciela, Soleil, Celeste, and Juan Manuel Jr. And Yadhira's husband Frank Maldonado with their children Frank Jr and Alexandro. He was also survived by his loving companion of 20 years, Yolanda Granda.
Domingo joined the Navy in 1948 and retired in 1969 where he served in the Korea and Vietnam Wars. He reached the rank of E-5 Petty Officer 2nd class and worked as an Armorer then as an Aircraft Hydraulics Mechanic. He once stopped an aircraft from going in the air due to noticing a mechanical problem. The aircraft would not have lasted in flight and he was recognized by his unit for his attention to detail. Domingo also boxed for over 10 years as a lightweight. He won an Atlantic fleet title and was runner up to an all military title which the Sailors in the audience felt he was robbed. Domingo loved baseball and enjoyed watching his children and grand children play baseball and soccer.
Domingo will be dearly missed by all of his family and friends. Dad we love you and will always have beautiful memories of you. Till we see you again.