Charles E. Sheidler
Sep 11, 1924 - Oct 13, 2020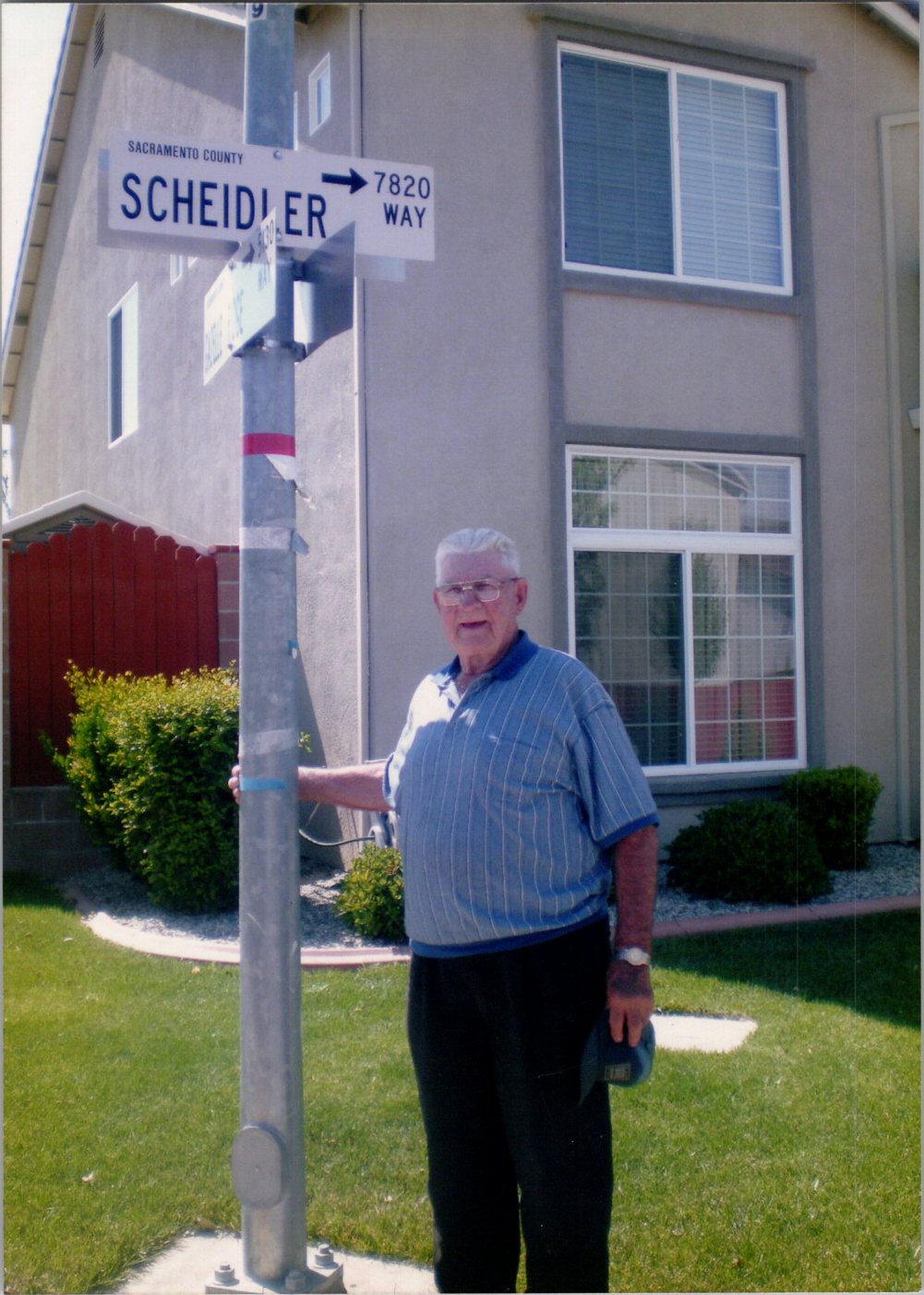 East Lawn Sierra Hills Memorial Park
5757 Greenback Lane
Sacramento, CA, 95841
Obituary
Charles Eugene Sheidler, 96, passed peacefully in his sleep on October 13, 2020.
Charles was born September 11, 1924 in Leipsic, Ohio. The youngest of seven (four girls, three boys), Charles regularly helped his father on the farm. He was proud of the fact they used horses for farming until they were able to get a tractor in 1936.
After graduating from Blanchard High School in 1942 he attended Bluffton College for two years before joining the navy. He served in World War II as a Signalman 3rd class and toured in Europe, the Mediterranean, and Persian Gulf.
Upon his honorable discharge, Charles graduated from California State Polytechnic University in 1950 with a bachelors in agricultural engineering. After graduating he worked for the USDA, Soil Conservation Service for San Juan and Skagit Counties in Washington (1951-1954). He then worked in the fields of design and construction for Cal Trans (1954-1959), flood control, planning, and design for California Department of Water Resources (1959-1963), and highway and bridge construction for the Department of Public Works in Sacramento County (1963-1980). Charles retired in 1980 at the age of 55 as a senior civil engineer. Charles was very proud of his work history, "I came from a family of hard-working people who were independent and self-sufficient."
In 1953 Charles married the love of his life, Marilyn Lee. Together they raised two daughters, Diann and Susan (Susan passed away in 1993). Both Marilyn and Charles were loving and active grandparents to their three grandchildren; Daniel, Zach, and Shannon, and their four great grandchildren; Dylan, Gwen, Patrick, and Logan.
Charles and Marilyn were very active members of their church community (Gethsemane Lutheran Church). Charles was on the church council, taught Sunday school, and helped with the maintenance of the church and grounds. "Our whole social life was around our church".
Charles always said his greatest joy in life was helping others, especially the less fortunate. He was a member of the Navy Armed Guard association and the VFW (Post 2324). He also volunteered as a 4H leader, as well as for Big Brothers Big Sisters, Meals on Wheels, and volunteered as a tutor.
Charles was a wonderful, loving man and will be greatly missed by those who knew him.