Benjamin Michael Acosta
Nov 26, 1947 - Feb 26, 2021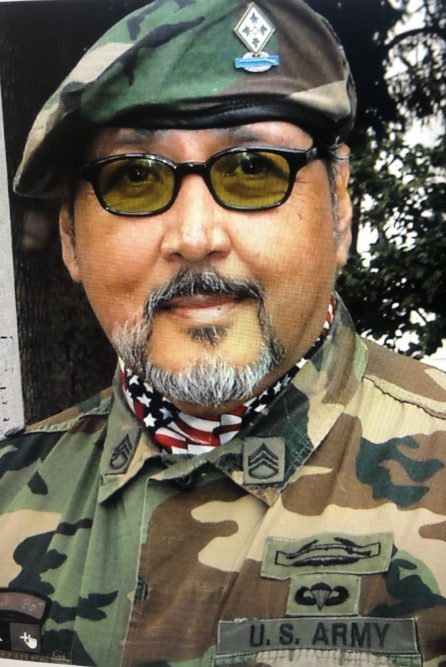 Sacramento Historic City Cemetery
1000 Broadway, Sacramento, CA 95818
, ,
Obituary
Sergeant Benjamin M. Acosta, Jr, 73, passed away peacefully Friday, February 26, 2021, at David Grant Hospital in Fairfield, CA. Benjamin was born November 26, 1947, in Sacramento, CA to Benjamin and Lucia Acosta. Upon graduation from Clarksburg High School, he enlisted in the United States Army in 1966.

Sgt. Benjamin Acosta served two tours of Vietnam as a Long Range Reconnaissance Patrol team leader in A Company, Battalion Airborne 173rd, 61st Infantry Regiment, in the 4th Infantry Division. In recognition of his service achievements, Sgt. Acosta was awarded the National Defense Service Medal, Vietnam Service Medal with Bronze Star, Vietnam Campaign Medal, and Combat Infantry Badge.

Sgt. Benjamin Acosta has been awarded three commendations from the Secretary of the Department of Veterans Affairs. In 1983, a Commendation was for outstanding accomplishments "demonstrating sincere compassion and courage" after coming to the aid of a distraught Veteran, who was preparing to jump from a freeway overpass. Benjamin talked the veteran down from the overpass and escorted him back to the Veteran's Affairs hospital. Once again, his quick thinking and compassion saved the life of a fellow veteran, just as he had done with many during the Vietnam War. As Sgt. Benjamin Acosta put it, "I didn't do it for a medal, I did it for my fellow soldiers."

Benjamin loved the entertainment business and after living in Southern California for several years, he was known to family and friends as "Benjamin Brazil" and "Mr. Hollywood". Benjamin's charming personality and natural charisma led him to work with some of Hollywood's finest
talents, including Taylor Hackford, Robert Loggia, Tim Burton, Johnny Depp, River Phoenix, Benjamin Bratt, Jesse Borrego, Billy Bob Thornton, and Damian Chapa. Benjamin was invited onto the movie sets of "Ed Wood" and "JFK" and was cast as a "background player or extra" for both films. Benjamin is credited for his scenes in the major motion picture "Blood In, Blood Out (Bound by Honor)" and as an extra in the television series "Mancuso, FBI". The recognition and acquaintances Benjamin met along his Hollywood journey left him with a lifetime of memories
and stories – proud stories he shared with all.

His time as a combat serviceman instilled a passion to serve others and honor his Country and fellow servicemen. He continued to be active in the Veteran community throughout his lifetime, dedicating numerous hours and resources to implement the "El Soldado Memorial" Statue of War Veterans on the grounds of the California State Capitol, paying tribute to Latino Veterans.

Benjamin enjoyed traveling and had many stories detailing his frequent travels to distant and exotic lands in his younger years. These travels brought along respect for many cultures, practices, and artwork, which he displayed proudly throughout his home.

Benjamin lived his life to the fullest and was a stellar example of the Core Army Values. Above all, Benjamin loved his Family and Friends. It was an honor for him to entertain and host those he loved most. Benjamin's attention to detail was present with every event he coordinated and
hosted, down to the smallest detail of "presentation" with any potluck dish he made to share with those he loved. The true entertainer Benjamin was, he didn't just provide music to play at a party, he hired a live band. Benjamin truly enjoyed being with his family and friends and seeing
those he loved gathered together. Benjamin had a heart of gold and desired peace for everyone. His legacy and great love for all will leave a mark in this world that will never be forgotten.

Sergeant Benjamin M. Acosta, Jr. joins his parents Benjamin and Lucia, step-father Eliseo, sister Christina, and Camo The Wonder Dog in heaven. He is survived by his daughters Amber (Carl) and Alicia (Ali), and grandchildren Hunter and Hailey. Benjamin is also survived by his brothers David, Steven (Melinda), Peter (Patricia), and Gilbert (Elena); sisters Elizabeth (David), Suzanne (Tom) and many nieces and nephews that loved him dearly and will miss him greatly.

Family and friends are respectfully invited to attend the funeral service for Sgt. Benjamin Acosta Jr., to be held at Cathedral of the Blessed Sacrament,1019 11th Street Sacramento, CA 95814, on Thursday, March 11, 2021, at 9:00 am.

A graveside blessing will be held immediately after at Sacramento Historic City Cemetery, 1000 Broadway, Sacramento, CA 95818.
Due to Covid-19, personal protective equipment is mandatory and a Celebration of Life for Benjamin will be held at a later time.

Friends and family are invited to sign the "Commemo Benno Memorial book" to share stories,
pictures, and remembrance: https://www.commemo.co/contribute/d7afc9