Becky Broadbent
Sep 27, 1960 - Nov 7, 2021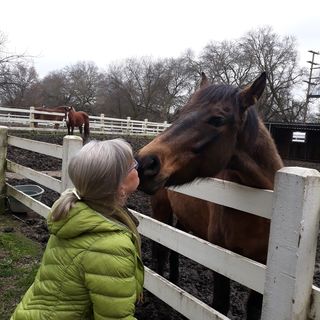 Obituary
Becky Sue (Wethington) Broadbent passed away Sunday November 7, 2021. Born in Tampa Bay Florida, Sept. 27, 1960.
She lived most of her life in California, and while living in Cobb Mountain California she graduated in 1978 with her12 other classmates from Middletown High School. She then spent a few years in Hawaii where her brother Rob was living at the time. In 1991 Becky and Jack married and lived in Alameda California. Relocated to Sacramento and in 1997 they moved to their home along the Sacramento River, which she loved dearly.
Becky enjoyed family and traveling; was a travel agent for many years in San Francisco and Sacramento. She also worked at the same grade school her daughter Holly was attending, so she could be close to her. Becky loved camping, farm animals, horses, gardening, and cooking with her homegrown vegetables. She was president of the Clarksburg Soccer Club and volunteered at the local food bank. As a hardcore SF Giants fan, she looked forward to going to the games with her older brother.
Becky was a shining light with her sweet, loving, thoughtful, fun loving way – a wonderful person like no other. Please light a candle in remembrance of her and all the kindness and love that exist in the world.
She is survived by her husband, Jack D. Broadbent, daughter Holly Ann Broadbent, her older brother Robert Wethington, nephew Luke Wethington, niece Katherine Wethington, younger sister Michele Williams and husband, Jim Williams.
Memorial services for Becky Sue Broadbent will be held at Clarksburg Community Church, in Clarksburg California on Saturday November 27, 2021. Arrival at 1:30 pm and services will start at 2:00 pm followed by a reception with light refreshments.
In lieu of flowers please make a donation, or volunteer in Becky's honor at the Union Gospel Mission Sacramento, (ugmsac.com).