Andy Allen Russ
Jan 10, 1957 - Sep 2, 2020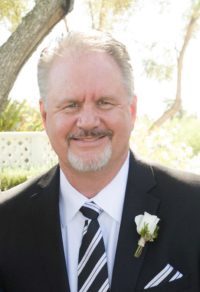 East Lawn Memorial Park
4300 Folsom Boulevard
Sacramento, CA, 95819
Obituary
Andy Allen Russ
January 10, 1957 – September 2, 2020
With profound sadness, we announce the passing of Andy Allen Russ on Wednesday, September 2, 2020.
Andy passed unexpectedly while peacefully sleeping at the home of his father-in-law in Rancho Cordova, CA at the age of 63.
Andy will be forever missed by his cherished wife, Sandra Thielbahr Russ; his two adoring daughters, Kelly Russ Ripley and her husband Marc Ripley of Morgan Hill, CA and Kristen Russ of Los Angeles, CA; beloved mother, Darlene Friday and her husband Gordon Friday of Carmichael, CA; his sister, Jean Hader and her husband Ed of Orangevale, CA; father-in-law, Glenn Rickard of Rancho Cordova, CA and sister-in-law Jenny Thielbahr of Seattle, WA. Andy also leaves behind his nephew, Stephen Hader and nieces Heather Russ Gould and Melissa Russ. Lastly, he will be greatly missed by a host of aunts, uncles, cousins, friends and colleagues.
He was preceded in death by his father, Jerry Russ, his brother, Kevin Russ and his mother-in-law, Jane Rickard.
Andy was born in Sacramento, CA on January 10, 1957. His formative years were spent in Chico and Rancho Cordova, CA. Most of Andy's adult life was spent in Morgan Hill, CA. He married his high school sweetheart Sandy, and they spent 43 happy years together.
Andy was a graduate of Cordova High School and earned his B.S. and M.S. degrees in Computer Science from California State University, Sacramento. Andy was a proud Eagle Scout & spent many happy summers during junior high and high school as a Boy Scout counselor at Camp Lassen near Chico, CA. He appreciated the beauty and awe of the outdoors and also volunteered with Santa Clara County Parks as a volunteer ranger to pass along his love of local history and the outdoors. Andy was "the gadget guy" and enjoyed hours exploring new technology gadgets, large and small. He was everybody's technology support person. But mostly, he loved his family time. Andy was a devoted husband, father, son, brother and friend. Andy dearly loved his family and was very proud of his two beautiful daughters. He was famous for his many family barbecue's, where he used his expert skills at his computerized backyard barbecue grill to the delight of all. Andy combined his practicality and love of technology to everything he did.
Andy worked for many companies during his career, including Kubel Enterprises, Westinghouse Security Electronics, Motorola, MainStreet Networks, Savi Technology, Steelwedge Software and Cisco. Andy immensely enjoyed his career which spanned 41 years and involved program management, hardware and software development, operations, information security and professional services. From his early career in developing traffic light systems, his pioneering work in RFID in the supply chain, development of sophisticated Access Control systems to his work in security making sure people and systems were safe, he brought his deep experience and love of development to every aspect of his projects. Most of all, it was his team building that was the foundation of everything that he did. Andy was known to be very practical and focused, and a wonderful collaborator with colleagues and friends while achieving great outcomes.
Donations in Andy's memory may be made to the Parkinson Association of Northern California, 1024 Iron Point Road, Suite 1046, Folsom, CA 95630, in honor of his father-in-law, Glenn Rickard.
The family will hold a memorial service at a later date.