Adelaida Festejo Cayco
Oct 4, 1925 - Oct 7, 2021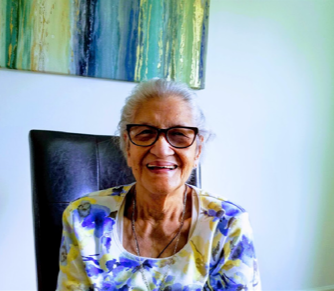 Obituary
October 4, 1925 – October 7, 2021
Adelaida was a devoted homemaker and loving mother of 3 daughter's Ana, Nanette and Teresita and was a caring grandmother to Camil, Kendra, Veronica and Carlo.
She was predeceased by her husband Amable Cayco in 2006.
— I will always remember Tita Deling for her caring ways. She's like a second mother to me. ' Made sure I was comfortable and well fed when in Malabon.. likewise, when in Baguio during school breaks. There was so much warmth in what she did that I always felt I was home.
Even if she's from an earlier generation, she understood our norms and allowed us to be ourselves. That was very important to us, so in return we behaved with responsibility and prudence.
She's a natural joker, as well. I will miss the hilarious episodes with her. Her comic lines often stirred us to endless laughter 😂
Thank you for everything Tita Deling. I will remember you with love and gratitude in my heart, for life. ♥️
May you have a peaceful journey eternally with our Lord almighty. 🙏 … Bambi
Tita Adeling made us always feel at home. Life with her around is fun- just like us hanging out with a friend our age. Groovy  …. Mercy
A visitation will be at East Lawn Mortuary and Memorial Park on Saturday October 16 from 1:00-4:00pm at 9189 E. Stockton blvd. in Elk Grove.