Jeanne Lo Hu
Nov 30, 1937 - Jun 22, 2021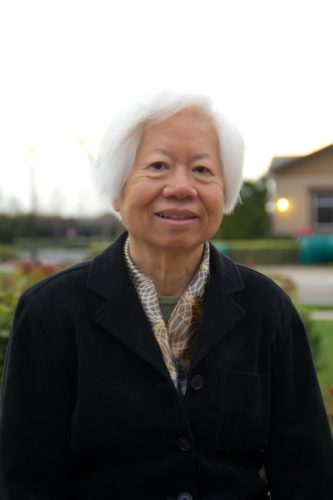 Obituary
Jeanne Lo Hu was born in Shanghai, China on November 30, 1937. Her ancestral home is Fuzhou, Fujian. She has two sisters and two brothers. Her father had the rare opportunity to have a government-funded graduate study in the United States from Tsinghua University in China. After he received his Ph.D. degree, he went back to China to work for the Shanghai Telephone and Telegraph Company. When the nationalist government moved to Taiwan in 1948, her father achieved a position as Chief Engineer and stayed in Shanghai temporarily before having the whole family moved to Taipei. When her father became critically ill, the family returned to Shanghai, leaving her to live with her grandmother and eldest uncle in Taipei. Fortunately, her two uncles treated her like their own child, and her grandmother loved her and taught her how to behave, to be honest and polite to others. Her cousins are like brothers and sisters to her.

Jeanne and Frank met each other during her sophomore year when they were attending the National Taiwan University. They married in December 1963 and became life-long partners. They gave birth to two daughters, Linda and Sosana. After she graduated in 1959, she was admitted to the American Aid Association of the Executive Yuan, which was later renamed the Economic Development Association. In 1972, she resigned and brought her two daughters to the United States to join her husband who came to the States earlier for graduate school.

After coming to the United States, she was shared the Gospel of Christ. Soon after being in Bible study, she became a Christian by believing and accepting Jesus Christ as her Lord and Savior in 1972 and gaining the hope of eternal life. She has served as Financial Manager of a non-profit organization for many years. She is a good wife and mother, taking care of both work and family, who loves to learn and study new things. She is the backbone of her husband and the support of her daughters and grandchildren.

In July 2013, Jeanne and Frank moved to Elk Grove, California, after living in Illinois for 40 years. She was diagnosed with lung cancer in August 2018 and had undergone various treatments and other complications. As she left this mortal life, she enters into the presence of our Lord Jesus Christ and final rest in Him. She is survived by her husband Frank Hu, her daughter Sosana (husband John) Moy, her son-in-law Tim Chan; her grandchildren Wesley (wife Jasmine) Chan, Stephanie Chan, Esther Chan, Ashley (husband Sam) Murray, Kristen Moy, Danielle Moy; and her great-grandson Ian Chan.