Even the smallest touch can make a big difference in personalizing your funeral services. There's no right or wrong way to celebrate your loved one and honoring their life, accomplishments, and individuality.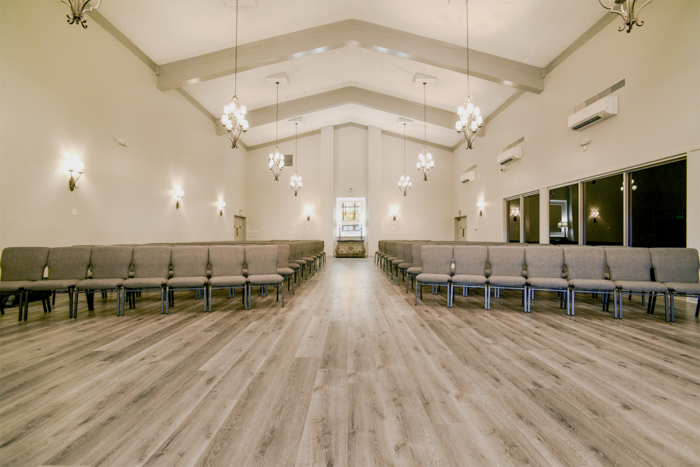 Honor What Made Them Unique
Personalization isn't just about honoring your loved one's individuality. It also allows family and friends to feel connected to the services and the life being honored. A memorable and meaningful service can be an important part of the healing process for those who are coping with a loss. We work closely with you to get to know your loved one's life story and brainstorm ways to represent your bond and pay tribute to their unique journey. East Lawn offers Certified Celebrants to help families design a highly customized service. When families use a Celebrant, that person prepares a unique perspective and offers a customized service that is different from what is typically offered by clergy. Spiritual or religious components can be added if the family requests them, but for the most part, those who choose Celebrant services are looking for something different than a traditional funeral service.
How Your Funeral Director Can Serve You
When a death occurs, your primary responsibility is to yourself and the ones you love. There are a number of things that require attention simultaneously. Regardless of the day or hour, East Lawn is always prepared to respond to your needs quickly and competently. The funeral director's main function is to assist you with the necessary details of the funeral process.
Among the services funeral directors provide are:
Provide support and guidance through what often is a difficult and unfamiliar experience
Make arrangements for the celebration of life or funeral
Help notify friends and family through our website
Secure necessary permits and death certificates
Arrange for the transportation and care of the decedent
Coordinate all details with the clergy or officiant
Help arrange for burial and/or cremation
Interface with the Veterans Administration (VA) if necessary
Assist with any insurance-related paperwork that need to be filed
Ensure everything goes according to plan for the service(s) and burial
For more information about our Professional Services, please contact us by e-mail or call at 916-732-2000. We're here to help.
The East Lawn General Price List is available by clicking here – also available upon request.
Personalized Printing
From the register book and memorial folders, to prayer cards and thank-you notes, our high-quality stationery sets are available in over 500 themes designed to honor your loved one's hobbies, style, and unique life path. Let us help you explore the options and choose the perfect design to create treasured keepsakes for you and your guests. It is just one extra way to personalize the service and add extra touches specific to your loved one.
Tribute Wall
Our Tribute Wall is a permanent virtual tribute you can return to whenever you'd like to revisit memories and reconnect with messages of support and love from family and friends. Guests can leave text comments, videos or audio message to share condolences and offer words of support, and when words aren't enough, there's an option to leave meaningful symbols. The Celebration Wall also allows guests to view obituary and service information and order sympathy flowers directly from the site.
Personalized Services
At East Lawn, we encourage families to create personalized services. It is important to acknowledge the life that has been lived and to offer to the community a way to celebrate that life. By offering services that are personal and special, a life can be remembered and honored in an unique way that is comforting to family and friends.
Life Tribute Videos
Are you looking for a beautiful way to share the memory of your loved one? We can create a one-of-a-kind video tribute by combining family photographs with cinematic introductions, the music of your choice, and professional effects in order to share your loved one's special life journey during their service. Life Tribute Videos also provide your family and friends with a meaningful keepsake long after the ceremony is over.
Funeral Home Services
A funeral represents an opportunity to reflect on the meaning of a life that has been lived and to determine that life's impact on family and friends. It is a time for human sharing in its deepest sense. You and your loved ones are at the very center of the process, and the choices you make will determine its significance for you.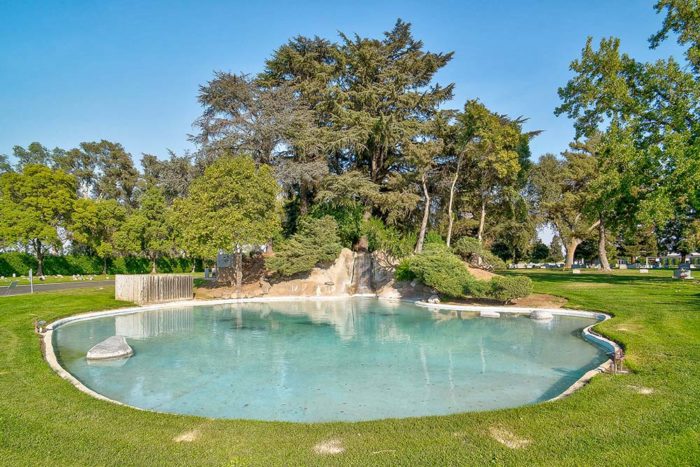 The Healing Power of Memorial Services
Coping with a loss is never easy, and services are an essential part of the grieving process. A funeral or memorial service can provide those who are grieving with a supportive environment in which they can gather with loved ones, say goodbye, and come to terms with the loss. No matter the setting, style, or direction you choose, our professional staff are honored to assist you in creating a service that reflects your loved one's memory.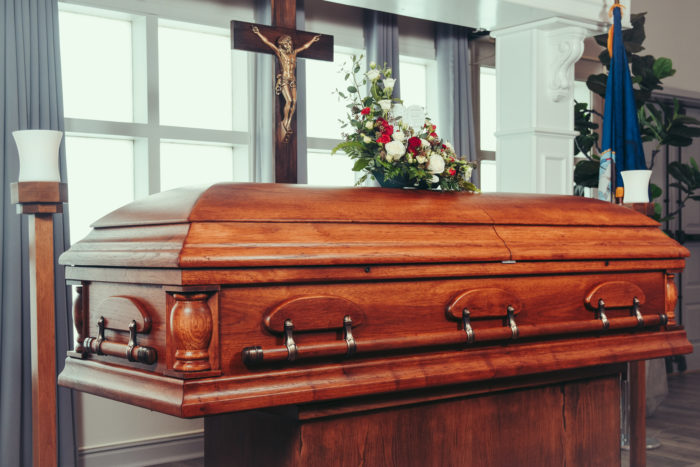 Complete Funeral Service
Traditionally, a funeral service includes a family or public viewing of the deceased. Following this will be a service, typically in church or the funeral home chapel. This would be followed by the earth burial or above-ground placement of the casketed remains. Caskets selected may cost from several hundred dollars to several thousand dollars depending on the material the casket is constructed of. Many cemeteries require that a minimum grave liner be used to encase the casket when earth buried. These minimum liners are constructed of concrete and designed to hold the weight of the earth, maintaining level cemetery property. A sealed vault may be used. The vaults are also constructed of concrete and are designed to not only protect the gravesite but are manufactured with inner liners that restrict the entrance of naturalf elements (water and earth).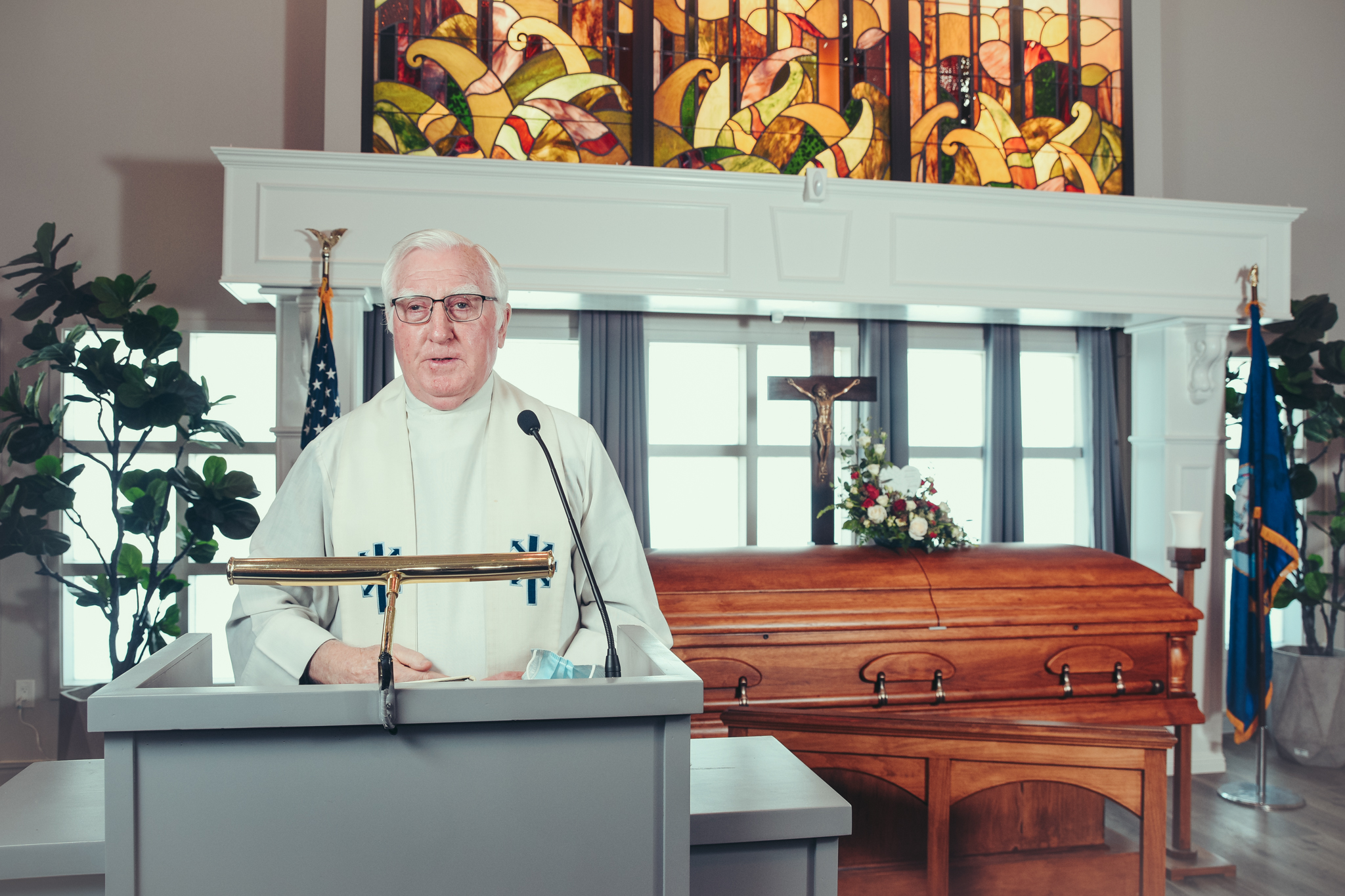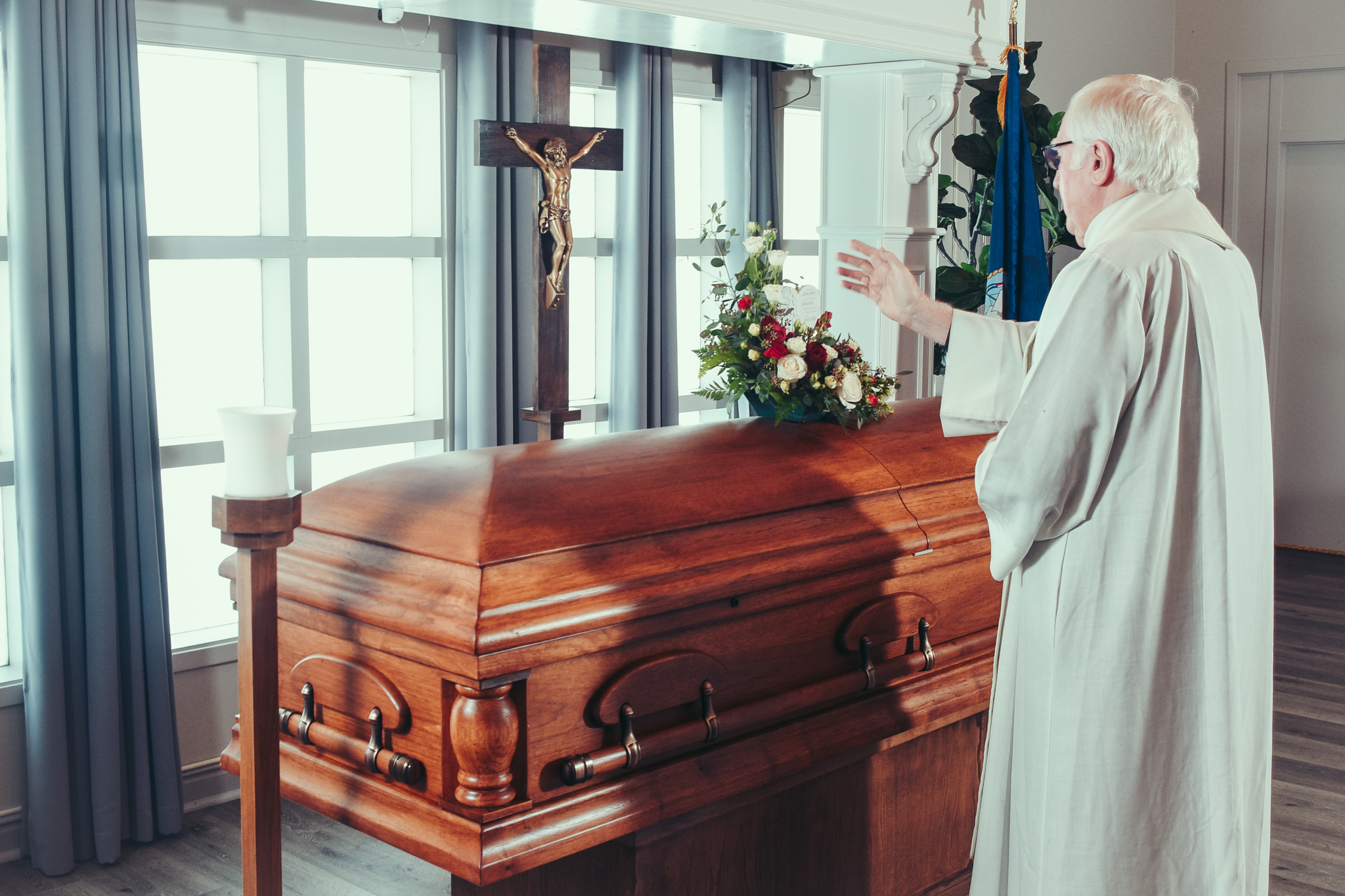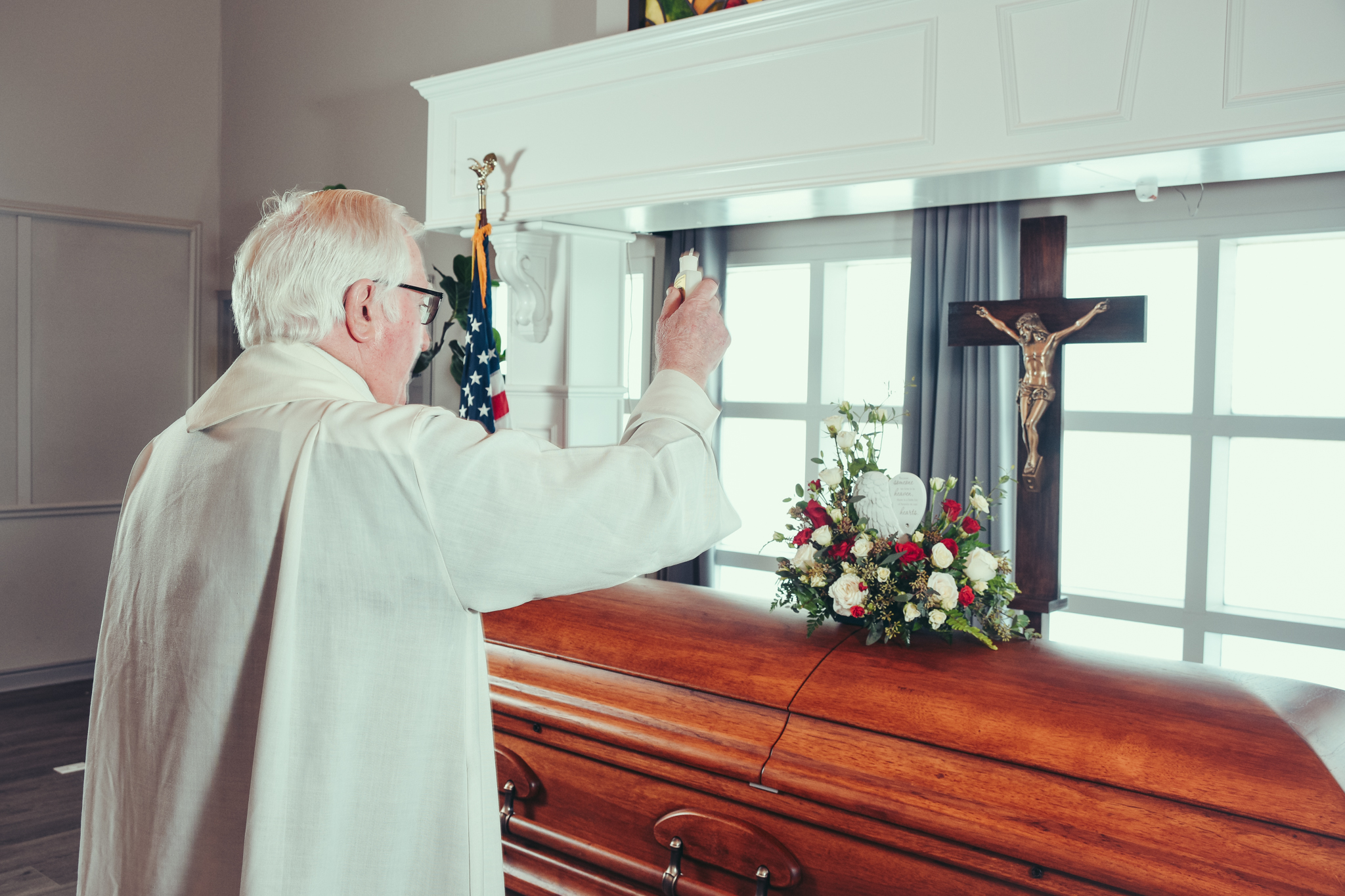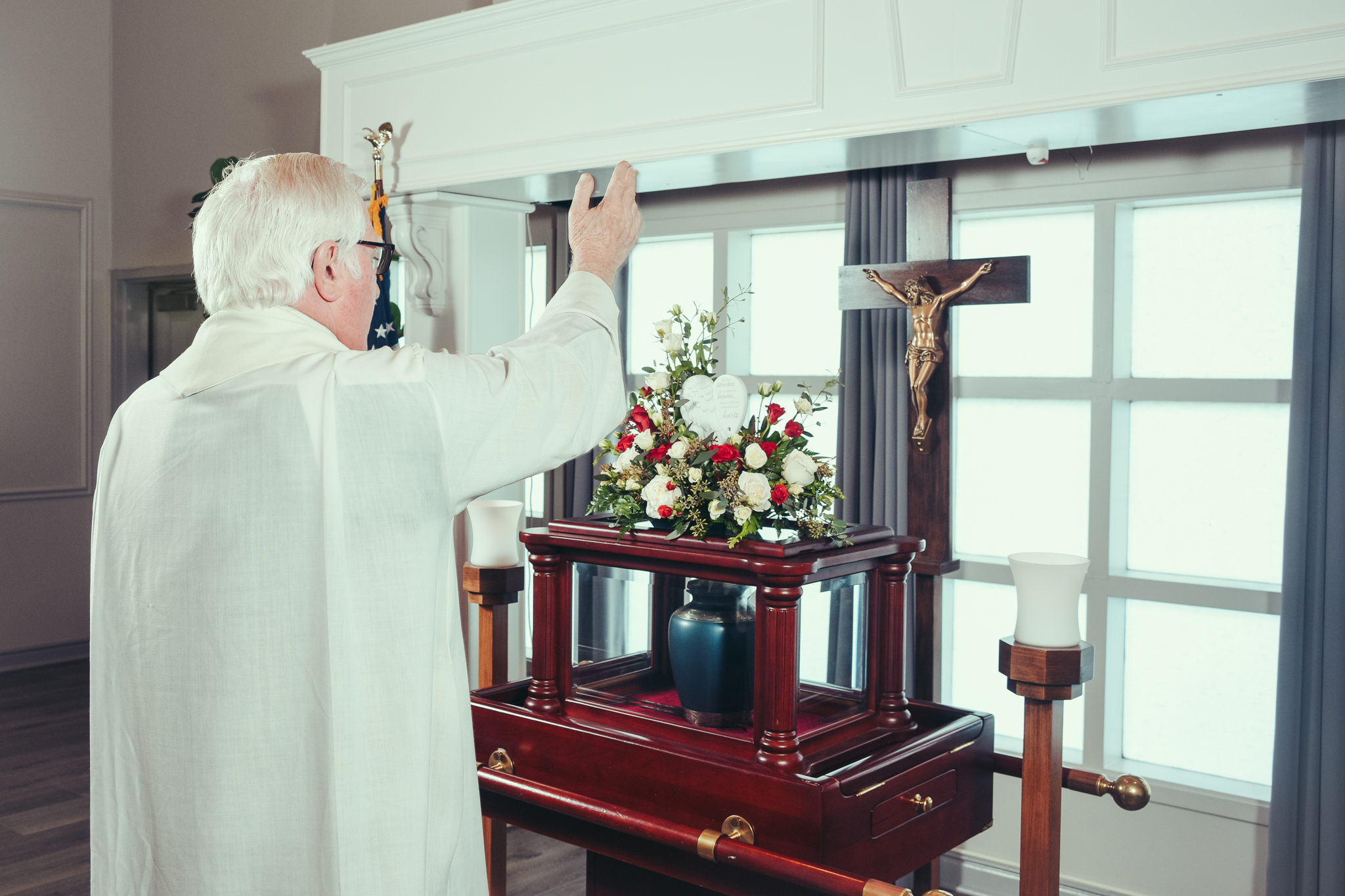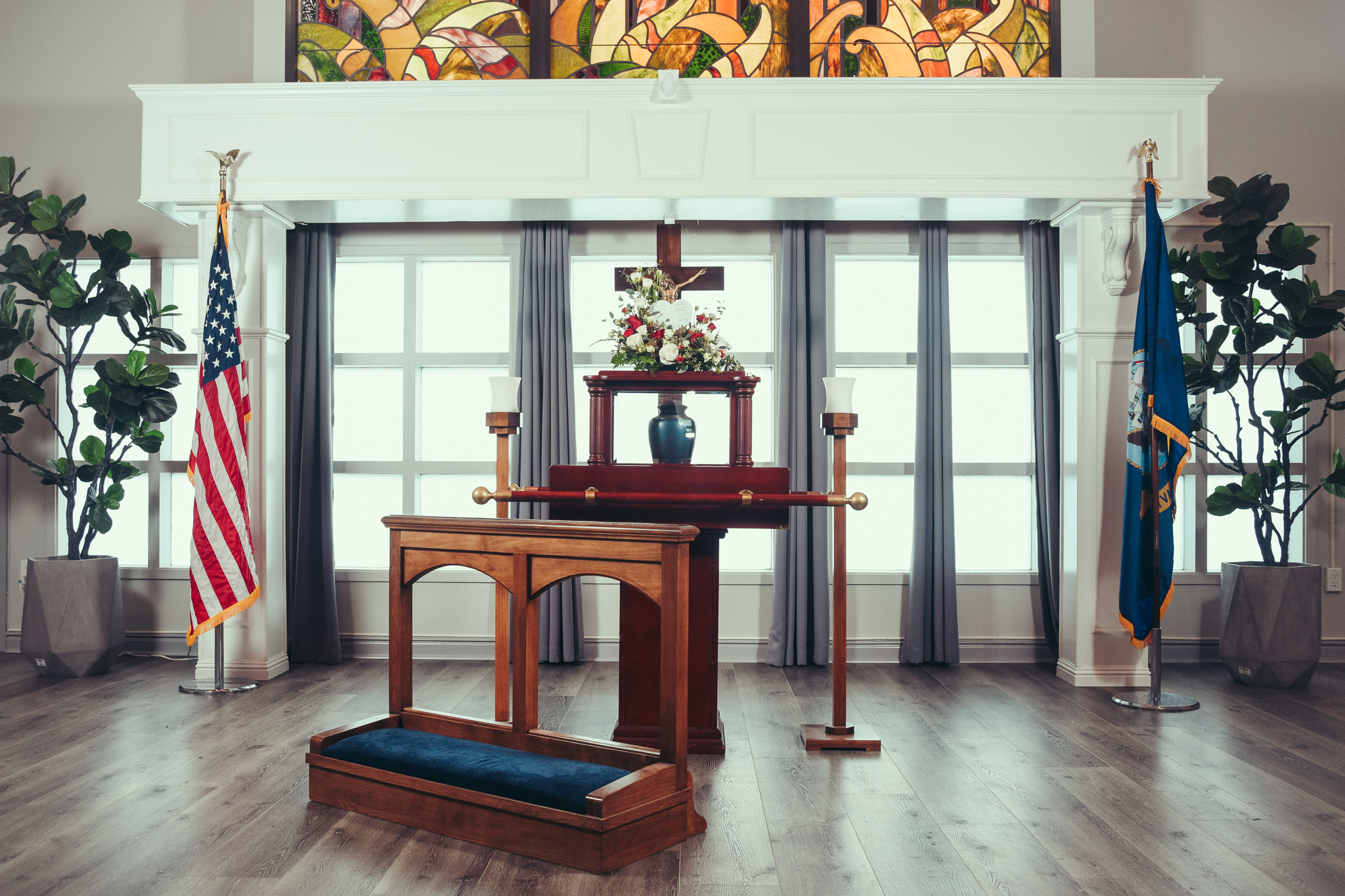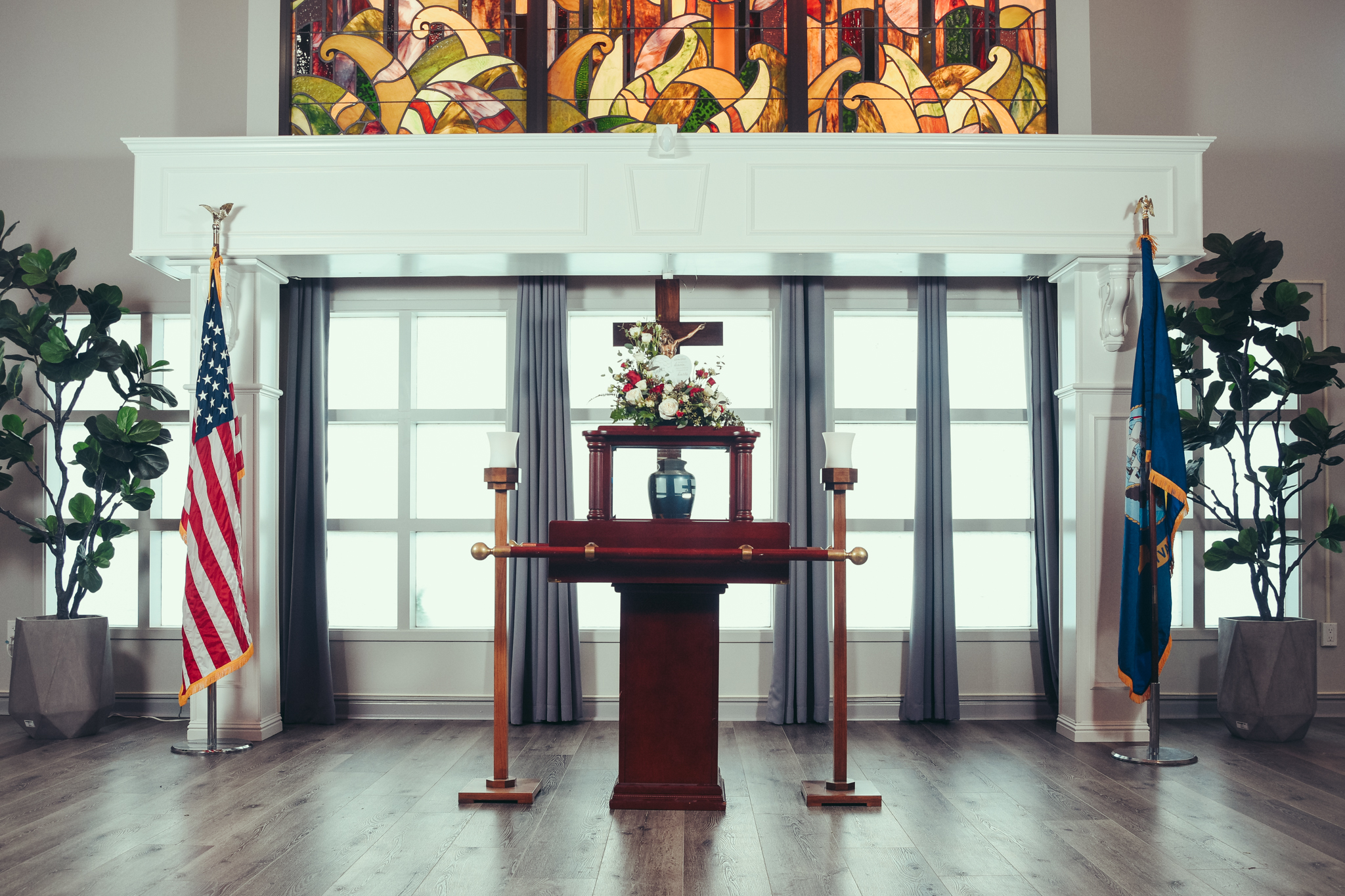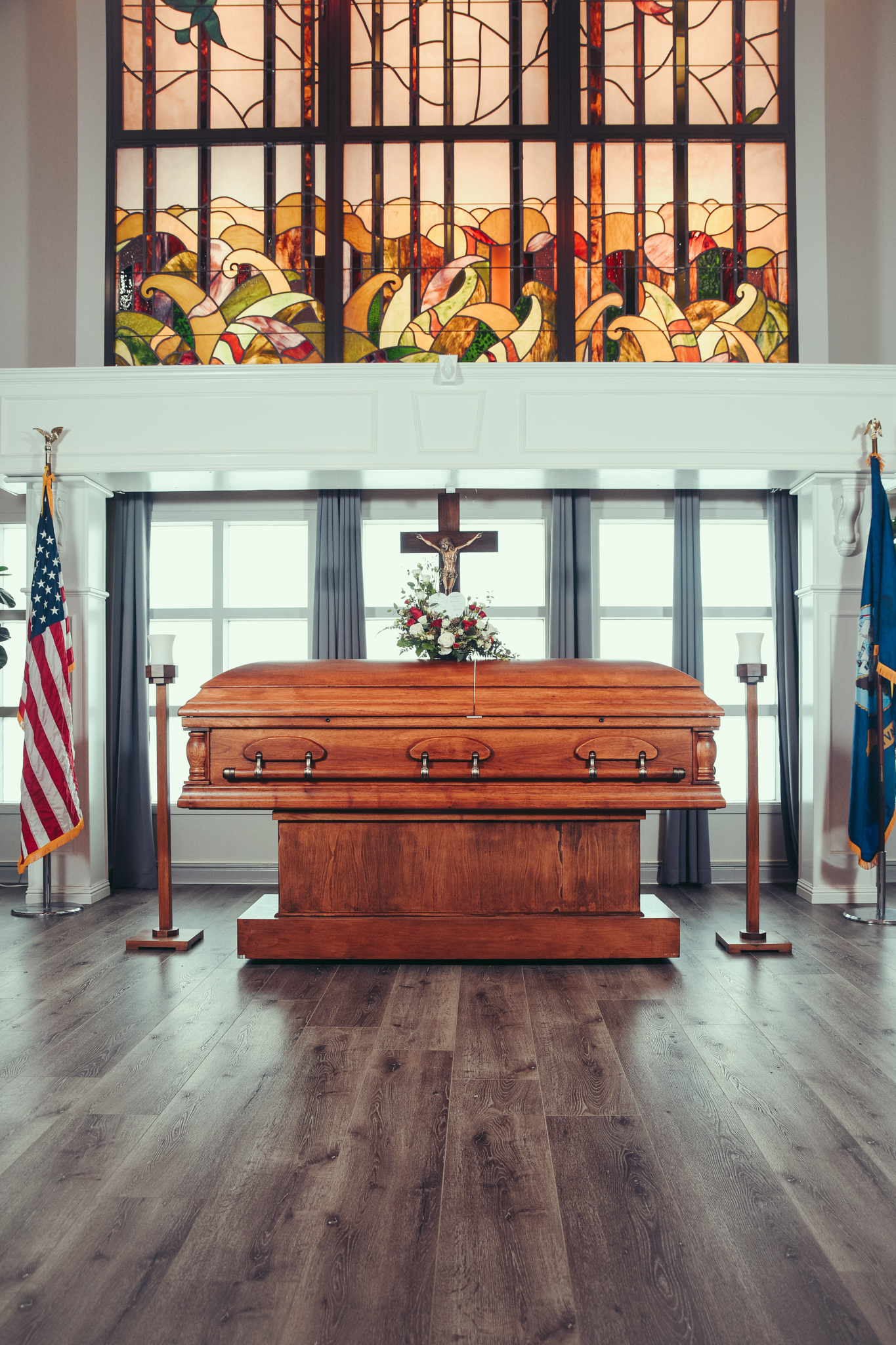 Catholic Services
East Lawn respects all cultures, rites and traditions. Our staff are trained to help serve members in our community of the Catholic faith. We work closely with local parishes and priests. One priest we work with often is Father McKeefry. Of Irish descent, Father McKeefry is a retired priest of the Sacramento Diocese He has been ordained for 55 years (44 years in Sacramento). If you have experienced a loss and would like to arrange a catholic funeral with us, an East Lawn Funeral Director will put you in contact with Father McKeefry, or another priest, depending on availability and location. At that appointment, decisions will be made about the service. Decisions to be made include: the vigil, the graveside, and the scriptures. The order will be, traditionally, the chapel service, commendation, and the committal. Cultures, customs and rituals will be incorporated upon request.
Graveside Service
The Graveside Service can be another selection. This usually follows a time of visitation at the funeral home. The casketed remains would then be transferred to the cemetery where a graveside ceremony could take place followed by the burial.
Cremation with a Service
Cremation with a service is another offering. This service mirrors the Complete Funeral Service except cremation will follow instead of the casketed burial. This can be accommodated by the use of a cremation casket (a casket that is designed to be cremated) or even a rental casket may be used. Following the service or ceremony and eventual cremation, the cremated remains can be buried, entombed, inurned, or returned to the family for safe keeping. Urns are used to hold the cremated remains. Urns can be constructed out of basic materials like cardboard, plastic, or constructed out of more protective materials like basic and semi-precious metals, ceramics, and woods.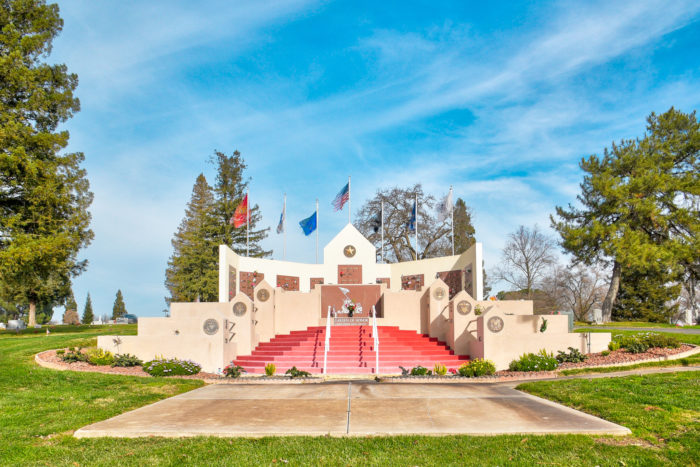 For Veterans
East Lawn is honored to have served veterans and their families in the Sacramento area for nearly six generations. Our funeral directors will help you file all necessary Veterans Administration (VA) paperwork, apply for benefits, order military honors, and arrange for burial in one of our East Lawn cemeteries, Sacramento Valley National Cemetery in Dixon, or another cemetery of your choice.
Military Honors arranged by the funeral home can include:
The playing of "Taps"
Folding and presentation of the United States flag
Military pall bearers
A 21-gun salute
Veterans Administration Burial Reimbursements
The VA provides many benefits and services to veterans. While most VA burial benefits are the same regardless of whether the service member or veteran died on active duty or later in life, some variance does exist. Visit the VA website to see a list of terms and eligibility requirements specific to each situation or contact your East Lawn funeral director for a full explanation of burial benefits
Typically, veterans are eligible for:
• Burial in a national cemetery (for veterans, spouses and dependent children)
• $2,000 burial allowance for veterans who die while on active duty or because of a service-connected injury
• $300 burial allowance for all other eligible veterans
These benefits are not paid automatically. Your East Lawn funeral director can help you file the necessary paperwork.
Funeral Home Options
The thought of planning a funeral may seem too difficult for those who've suffered a loss. We're here to help ease your burden and remind you of the true value a ceremony can hold for you and your family.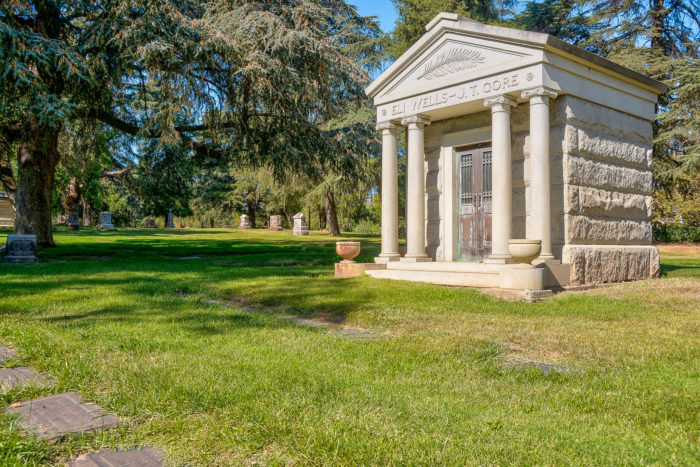 Burial Services
There are different elements to consider when arranging a burial, depending upon your individual needs and preferences:
Visitation (also called a "viewing", "wake" or "calling hours") allows family and friends to gather in a room with the departed loved one (in an open or closed casket) and gives everyone the opportunity to say goodbye and offer their support and sympathy to the bereaved.
Funeral or Memorial Services can take place at a funeral home, in a church or even at your home. The service is a ceremony which serves to celebrate, honor, and remember the life of the deceased. Whether traditional or unique, both the visitation and the funeral service can be personalized to reflect the individuality of your loved one. For more information on personalization, visit our page on Celebrating Life.
Graveside, Chapel, or Committal Services are held at the cemetery, and allow family and friends to be present as their loved one is transferred to his or her final disposition through ground burial.
Immediate Burial means that your loved one's physical remains will be buried or entombed without a public service or gathering.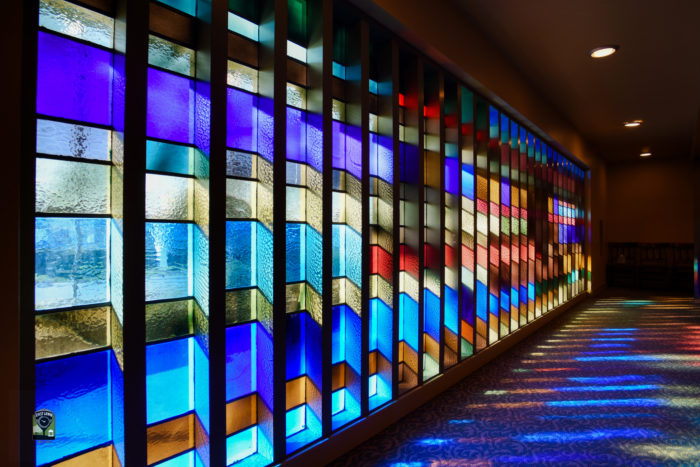 Cremation Services
The biggest misconception about cremation is that it doesn't allow for a funeral service or visitation, which isn't the case at all. When you choose cremation of a loved one's remains, we encourage you to consider a service as well. There are many options to consider when it comes to honoring your loved one's life: you can provide friends and family a chance to say goodbye through a final viewing before cremation, and you can also hold a formal service either before or after the cremation occurs. Following cremation, there are a variety of choices for your loved one's final disposition.
Interment means that you will bury, entomb or inurn your loved one's cremated remains. This can be in a family plot, crypt, memorial site, cremation niche or urn garden, or in a variety of other indoor and outdoor locations. Ask our staff for a detailed list of interment possibilities.
Graveside Services are similar to those celebrated alongside a traditional ground burial, in which loved ones are present at the burial of the cremated remains and honor the deceased through memorial prayers or other meaningful tributes.
Placing cremated remains in multiple urns allows family members who are separated by distance to each feel the comfort of having their loved one's final resting place in a nearby location.
We own our crematory so you can be assured once your loved one enters our care, they stay in our care until the cremated remains are interred in a cemetery or returned to you.