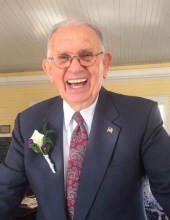 Obituary for Charles Richard Nonamaker
Charles Richard Nonamaker, of Citrus Heights, California lost his battle with prostate and bladder cancer on October 25, 2017. Chuck was born on July 21, 1930, in Akron, Ohio, to Walter and Ida Nonamaker. He graduated from South High School in Akron in 1948. He married his sweetheart Rheta Joy Gowens, on September 2, 1951. They were blessed with two daughters, Nila and Nadine.

Chuck's career included jobs with Lawson's Milk, Wonder Bread, ownership of two flower shops in Southern California and eventually a position with Mount Vernon Mortuary as a courier for 18 years.

His hobbies included bowling on a league with Rheta, deep-sea fishing, and he was an avid Sacramento King's fan. He loved attending church and was a long-time member of Gospel Tabernacle in San Fernando Valley, Roseville Gospel Tabernacle in Roseville, and eventually Capital Christian Center in Sacramento.

Chuck is survived by his wife of 66 years, Rheta Nonamaker, his daughter Nila Noble, his daughter Nadine Wilbur and son in-law Mark Wilbur; his sister Sally Richards and brother in-law Bob Richards, and sister Sue Jarrett and brother in-law Larry Jarrett. He is also survived by his four grandchildren, 10 great-grandchildren, and one great-great-grand-daughter.

He is proceeded in death by his father, Walter A. Nonamaker; mother Ida Mary Nonamaker; and son in-law Rod A. Noble.

A public visitation will be held at Sierra Hills Memorial Park on Wednesday, November 1, 2017 from 5:00pm-8:00pm.

Funeral Services will be held at Sierra Hills Memorial Park on Thursday, November 2, 2017 at 2:00pm.
Previous Events
Visitation
East Lawn Sierra Hills Memorial Park & East Lawn Mortuary
5757 Greenback Lane
Sacramento, CA 95841
Service
East Lawn Sierra Hills Memorial Park & East Lawn Mortuary
5757 Greenback Lane
Sacramento, CA 95841